With the new royal decree by His Majesty Sultan Haitham bin Tarik, you can now plan your holidays well in advance and visit your bucket list destinations. Here at Signature Oman, we have carefully curated this list to help you with your 2023 travel itinerary. In case you missed it, here are the confirmed public holidays (according to Hijri calendar) in Oman starting 2023: 
Hijri New Year (Muharram 1st)
Prophet's birthday (12th of Rabi' al-Awwal)
Isra and Miraj (27th of the month of Rajab)
The Glorious National Day (November 18-19)
The day the Sultan assumed the reins of power in the country (January 11)
The blessed Eid Al-Fitr, starting from (29 of the month of Ramadan until third of the month of Shawwal
The blessed Eid Al-Adha, from 9 to 12 of the month of Dhul-Hijjah.
Our Top 10 destinations are :
Bogota, Colombia
Bogotá is the capital of and largest city in Colombia. It is a place of convergence for people from all around the country and is therefore diverse and multicultural. Within this city, the past and present come together.
The city is also very green thanks to its parks and the hills that extend along its eastern boundary, dwarfed by their two highest points, Monserrate and Guadalupe. The landscape that the people of Bogotá enjoy daily—the sea of green that makes up the Andes mountain range, rising up in the east—would be nearly impossible to find in any other large city.
But Bogotá also has the colors of modern buildings and authentic colonial roof tiles that are a true historical treasure from the colonial era.
Thanks to this fusion of the past and present, Bogotá is an ideal location with history, entertainment, delicious cuisine, culture, business, and much more.
Bogotá's location in Colombia or where Bogotá is a simple answer. The capital of Colombia is located in one of the six regions of the country, the Andean Region, which is located throughout the center of the Colombian territory. In the Cundiboyacense plateau and on the savanna that bears its name at an altitude or elevation of 2,600 meters above the sea level.
Bogotá is the melting pot of Colombia. Here, all the cultures from different regions of the country have a place, from the cuisine of the Coffee Triangle to the exhilaration and joy of the Caribbean, or the artisanal heritage of Boyacá and the Valle de Cauca Festival. Bogotá brings together the best of Colombia, and for that reason, it should be at the top your list of places to visit.
Visit https://colombia.travel/en for more details.
Masai Mara – Kenya's Wildlife Masterpiece
From the Great Migration to close encounters with African big cats, the Masai Mara is a must-see for every safari traveller. Take to the crystal blue skies for a birds-eye-view of the golden African plains and its many inhabitants. For a more up close and personal encounter, embark on a thrilling jeep safari among the area's lions, elephants and other wildlife. The Masai Mara National Reserve & conservancies never fail to entice and excite.
The quintessential African safari dream
Ask someone to describe their dream of going on an African safari and you'll probably hear the same answer nine out of ten times. People dream of being in awe by wildebeest-spotted savannahs, of having their breath be taken away by unexpected lion encounters and of having their hearts thump in excitement while watching a thrilling chase between predator and prey. One of the best places on earth to have this African safari dream come true in the Masai Mara National Reserve and conservancies. Imagine countless wildebeest and zebras grazing lazily right there in front of you! The feeling is humbling and inspiring all wrapped into one. The Masai Mara is known for the highest concentration of wild animals in the world. More than 40% of Africa's larger mammals can be found here. However, there's more to the Masai Mara than endless plains. Aside from the main Masai Mara National Reserve proper there are a dozen community conservancies, several group ranches and quite a few Maasai villages in the area.
Plan and book your Safari Packages here : https://www.masaimara.com/index.php
Raja Ampat, Indonesia
Far from the view-blocking skyscrapers, dense and hectic concrete jungles, congested traffics, flickering electric billboards, endless annoying noises, and all the nuisances of modern cities, you will find a pristine paradise where Mother Nature and warm friendly people welcome you with all the exceptional wonders in Raja Ampat, the islands-regency in West Papua Province. With all the spectacular wonders above and beyond its waters, as well as on land and amidst the thick jungles, this is truly the place where words such as beautiful, enchanting, magnificent, and fascinating get its true physical meaning.
The Emperor of Four
Situated off the northwest tip of Bird's Head Peninsula on Papua, the most eastern island of the Indonesian Archipelago, Raja Ampat or literally meaning 'The Four Kings' is an archipelago comprising over 1,500 small islands, cays, and shoals surrounding the four main islands of Waigeo, Batanta, Salawati, and Misool. The name Raja Ampat itself is believed to derive from a legend where a woman found seven eggs, with four of them hatch and become the kings of the four main islands, while the other three became a woman, a ghost, and a stone.
For underwater enthusiasts, Raja Ampat definitely offers some of the world's ultimate experience. The territory within the islands of the Four Kings is enormous, covering 9.8 million acres of land and sea, home to 540 types of corals, more than 1,000 types of coral fish and 700 types of mollusks. This makes it the most diverse living library for the world's coral reef and underwater biota.
How To Get There ?
To get to Raja Ampat you should first take a flight from Jakarta or Makassar to Sorong. There are small aircraft to take you to Waisai, the capital of the district of Raja Ampat, or alternatively, you can take a ferry from the port of Sorong to the islands.
Established in 2012, the Marinda Airport in Waisai, the capital town of Raja Ampat Regency served flights to and from the city of Sorong. Wings Air served daily flight between Sorong and Raja Ampat, while Susi Air flight twice a week on Monday and Saturday. Please be advised that Marinda Airport is still under development and expansion and located relatively far from any facilities. So be sure to pack some snacks and drinks as you await your return flights to Sorong. Alternatively, there are ferries available to get you from Sorong and Waisai and vice versa. The ferry trip will take about 2 to three hours.As the main hub to Raja Ampat, the Domine Eduard Osok Airport in Sorong serves flights to a number of major cities in Papua and Indonesia including Manokwari, Jayapura, Ambon, Makassar, Manado, and Jakarta.
Garuda Indonesia operates daily flights between Jakarta-Sorong. As do Sriwijaya Air and Nam Air, Whereas Batik Air flies twice daily between Jakarta and Sorong. Plan your trip to Raja Ampat on https://www.indonesia.travel/gb/en/destinations/maluku-papua/raja-ampat
Malta
Rich in Culture 
With so many rich and colourful traditions which have withstood the test of time, the amount of pride the Maltese have for their culture is highly understandable. With elaborate fireworks displays, rowdy village festas, and outstanding hospitality, not to mention the mind-blowingly delicious food, the sheer magnetism of Maltese culture is apparent everywhere you go, making it almost impossible not to be drawn in.
Nightlife In Malta
Festivals, theatre, clubs, bars, and more. No two nights are the same in Malta! With an infinite choice of bars, clubs, casinos, theatres, and restaurants, Malta's vast and varied nightlife caters to even the choosiest of night owls!
You can choose to sip a classy cocktail in one of Valletta's swanky wine and cocktail bars or perhaps indulging your inner party-animal at St Julian's collection of nightclubs is more up your street. Maybe lady luck is on your side as you take on a casino. Whatever you fancy, a night on the town is not to be missed!
If this is on your bucket list, donot hold back on travelling here. Visit https://www.visitmalta.com/en/ to know more and plan your holiday.
Marseille, France
France is one of the most sought after tourist destinations in the world to explore the rich culture, art, food and history. Paris being the city of love and on every hapless romantic's list to visit the Eiffel Tower, another such gem well shrouded in Parisian culture is Marseille. A city with a rich history dating back to almost 2600 years, Marseille is France's oldest city. Yet it has also undergone a huge modernisation with famous architects (Kengo Kuma, Jean Nouvel, Ora ïto, Rudy Ricciotti, Norman Foster) over the last decade.
Get a complete French experience by booking your trip on https://www.marseille-tourisme.com/en/
Bhutan
Bhutan, a Buddhist kingdom on the Himalayas' eastern edge, is known for its monasteries, fortresses (or dzongs) and dramatic landscapes that range from subtropical plains to steep mountains and valleys. In the High Himalayas, peaks such as 7,326m Jomolhari are popular trekking destinations. Paro Taktsang monastery (also known as Tiger's Nest) clings to cliffs above the forested Paro Valley.
Tourism in Bhutan began in 1974, when the Government of Bhutan, in an effort to raise revenue and to promote Bhutanese unique culture and traditions to the outside world, opened its isolated country to foreigners. In 1974 a total of 287 tourists visited the Kingdom of Bhutan. The number of tourists visiting Bhutan increased to 2,850 in 1992, and rose dramatically to 7,158 in 1999. By the late 1980s tourism contributed over US$2 million in annual revenue.
Though open to foreigners, the Bhutanese government is acutely aware of the environmental impact tourists can have on Bhutan's unique and virtually unspoiled landscape and culture. Accordingly, they have restricted the level of tourist activity from the start, preferring higher-quality tourism. Initially, this policy was known as "high value, low volume" tourism.
Visiting Bhutan
Bhutan's tourism policy was further revised in June 2022 to maintain her 'High Value, Low Volume' policy and all nationalities has to pay US$200 in Sustainable Development Fee per night to avail a visa to Bhutan, while Indian nationals has to pay 1,200 INR to avail a permit. Henceforth, travellers are allowed to arrange their own accommodations and itinerary when travelling in the country.
Almost all nationalities need to pre-arrange their visa or permit prior to visiting Bhutan based on updated Visa policy of Bhutan. Click here for updated Bhutan visa policy.
 Belgrade, Serbia
Built at the confluence of the Sava and Danube rivers, Belgrade is rightly known as "the Gate of the Balkans" and "the Doors to Central Europe".The city is steeped in a rich cultural and historic heritage which is reflected in its many museums, including the National Museum, the Military Museum, the Museum of Contemporary Art and the Nikola Tesla Museum.
Its numerous monuments, which have become the city's symbols in their own right – the Victor, the Prince Mihailo Monument or the White Palace, the former royal residence of the Karađorđević dynasty – bear witness to the turbulent history of Serbia and the Serbian capital. Present-day Belgrade is teeming with new urban hangouts for young people on the lookout for fun and for culture and art events.
About the City
Serbia's capital is one of Europe's oldest cities. Ruins of a Neolithic settlement have been unearthed nearby, while the first settlement on the site of the modern city was the Celtic town of Singidunum, which was built here in the 3rd Century BCE. The city changed hands with the arrival of Romans in the 1st Century, only to be conquered by Slavs in the 6th Century. Throughout history many nations have fought over it – Hungarians, Ottoman Turks, Austrians – resulting in the city being razed to the ground and rebuilt as many as 38 times throughout its history. In 1841, Belgrade became the capital city of Serbia.
What gives Belgrade its unique identity is its location: it lies at the confluence of two large rivers, the Sava and the Danube, with popular promenades on their banks. This is an area lined with parks, dotted with many restaurants and cafés, most of them on river barges, with stunning views of the river and the city itself.
Boasting works created by renowned Serbian and international street artists, the Savamala district, nestled on the banks of the Sava, is a bustling area full of galleries, culture centres and coffee houses with live music. Unsurprisingly it's chilled vibe lures visitors to spend time relaxing away from the urban hustle.
A little further away, on the banks of the Danube, you will find Dorćol Plac, a culture centre with a year-round succession of plays, art workshops, concerts and many other culture and art events.Those who crave a good time on a night out are sure to find it at one of Belgrade's many night clubs with trendy music and top-notch entertainment, or at the traditional coffee houses with live music and songs whose lyrics you may not understand, but which will prove entertaining. Its internationally famous nightlife has earned Belgrade the reputation of a city that never sleeps!
Plan your Serbian trip now : https://www.serbia.travel/en
Barbados, North America
One must have heard of Barbados quite often as an exotic destination in Pop culture references, but most importantly, this beautiful country is the hometown of Pop Music sensation Rihanna! Barbados is home to alot of diverse marine life, culture and is a land filled with welcoming Barbadians.
Each place in Barbados has a story, every meal is a celebration, and each day promises new experiences, discoveries and memories to last a lifetime. Many expect Barbados to be a once-in-a-lifetime type of trip, but quickly discover that it is the kind of place you want to return to, time and time again. With so much to do, it is probably pretty obvious now why travellers keep coming back! Somewhere just off the island chain, you'll find Barbados! Surrounded by the crystal-clear waters of the Caribbean sea, Barbados has something for every kind of traveller: the foodie, the explorer, the historian and the adventurer! From their cuisine to their finest locally produced bevvies, to their UNESCO World Heritage sites, your Barbados adventure awaits!
Plan your trip here : https://www.visitbarbados.org/
Petra, Jordan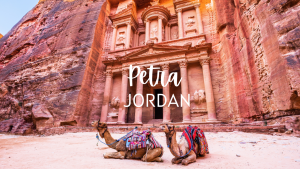 The city of Petra, capital of the Nabataean Arabs, is one of the most famous archaeological sites in the world, it is Located 240 km south of the capital Amman and 120 km north of the red sea town of Aqaba. Petra the world wonder, is undoubtedly Jordan's most valuable treasure and greatest tourist attraction, and it is visited by tourists from all over the world.
It is not known precisely when Petra was built, but the city began to prosper as the capital of the Nabataean Empire from the 1st century BC, which grew rich through trade in frankincense, myrrh, and spices. Petra was later annexed to the Roman Empire and continued to thrive until a large earthquake in 363 AD destroyed much of the city in the 4th century AD.
The earthquake combined with changes in trade routes, eventually led to the downfall of the city which was ultimately abandoned. By the middle of the 7th century Petra appears to have been largely deserted and it was then lost to all except local Bedouin from the area.
In 1812 a Swiss explorer named Johannes Burckhardt set out to 'rediscover' Petra; he dressed up as an Arab and convinced his Bedouin guide to take him to the lost city, After this, Petra became increasingly known in the West as a fascinating and beautiful ancient city, and it began attracting visitors and  continues to do so today.
Petra is also known as the rose-red city, a name it gets from the wonderful colour of the rock from which many of the city's structures were carved. The Nabataeans buried their dead in intricate tombs that were cut out of the mountain sides and the city also had temples, a theater, and following the Roman annexation and later the Byzantine influence, a colonnaded street and churches.  In addition to the magnificent remains of the Nabataean city, human settlement and land use for over 10,000 years can be traced in Petra, where great natural, cultural, archaeological and geological features merge.
Vietnam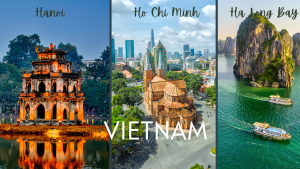 Spectacular nature. Exceptional cuisine. Cultural diversity. Excellent service. Vietnam has fully reopened for international tourism without Covid-19 restrictions (No vaccination certificate, No test requirements, No quarantine, No medical declaration) and restored visa policies and immigration procedures as before Covid-19.
Now you are free to discover and enjoy various wild nature destinations like limestone mountains, green terraced rice fields, and white sandy beaches. Take in new sights, sounds, and flavors. Enjoy experiences that are truly memorable.
Donot miss out in visiting major cities in Vietnam like Hanoi , Ho Chi Minh and Ha Long Bay. Experience food, nature, culture and exclusive luxury cruises for you and your loved ones. Visit now and plan your trip on : https://vietnam.travel/