The Royal Opera House Muscat is delighted to announce three nights of Teatro dell'Opera di Roma's production of Giselle, one of the most loved ballet's of the classical repertoire. Giselle will take place over two nights on the 9 & 10th of March, with a matinee performance on the 11th of March at the Royal Opera House Muscat. 
The tale behind the ballet is a cautionary one, witnessing the devastation of betrayal and deception on young love, but it is also a celebratory story of the power of love over destiny. Giselle is a young country girl, full of joy and noted for her exceptional dancing. She is loved by a boy in her village, but is swept off her feet by a stranger, who disguises his real identity as a Prince to capture her heart. Giselle's childhood sweetheart exposes the deception with tragic results, as Giselle is heartbroken and dies. The prince is now destined to be destroyed by Giselle, as she resides in a half life along with all the spirits of other girls who have died of heartbreak. Giselle refuses to let this destiny destroy her love and instead saves the prince from his fate. 
Teatro dell'Opera di Roma Ballet presents this glorious production in memory of Carla Fracci (1936-2021), their artistic director, and the ballerina who danced Giselle to great acclaim. The ballet is accompanied by the Armenian State Symphony Orchestra, conducted by Sergey Smbatyan.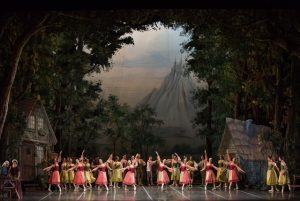 For more information or to book your tickets contact the box office of visit the ROHM website or app.