The Ferrari Purosangue is the first ever four-door, four-seater car in Ferrari's history, but models with two rear seats have played a significant role in the company's strategy since the very beginning. Now, in the culmination of 75 years of leading-edge research, Ferrari has created a unique car and the encapsulation of the Prancing Horse's DNA, where performance, driving pleasure and comfort coexist in perfect harmony. And that's why this new model was called Ferrari Purosangue – Italian for thoroughbred.
The Ferrari Purosangue, which mans "pure blood" in Italian, looks like a crossover SUV but Ferrari isn't calling it that. Ferrari calls the Purosangue a "car" and contrasts its engineering with that of typical SUVs. The Purosangue's big engine, a 715-horsepower V12 of the sort for which Ferrari is famous, is carried farther back behind the front wheels than in similar vehicles to create a better weight balance, according to Ferrari.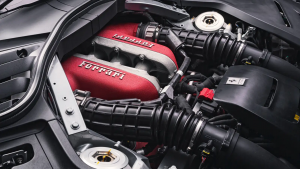 Ferrari has made four-seat cars before, but Ferrari's its regular production cars have been two-door models, with back seats better suited for occasional use than long trips. The Purosangue has four full-sized and fully adjustable seats, a first in any Ferrari model. Both front and back seats are also heated, and the front seats have a massage function. A special darkening full-length glass roof is offered as an option, and there's a second screen for the front passenger "that provides all the information required to help them participate in the driving experience," according to Ferrari.
The Ferrari Purosangue is the only car with similar proportions to sport a mid-front-mounted, naturally-aspirated V12: Maranello's most iconic engine debuts in this brand new configuration to ensure the car unleashes more power than any other in the segment (725 cv) whilst guaranteeing the most enthralling Ferrari engine soundtrack.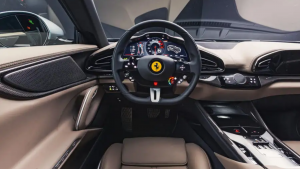 Unlike most similar vehicles, the Purosangue has no rear windshield wiper, instead relying on airflow to keep the back window clean. The car's narrow headlights have air intakes above and below them.
It will also offer the sort of driving experience customers expect, the company said. It will be able to launch from a stop to 60 mph in about three seconds, according to Ferrari. The engine is designed to produce as much power as possible even at low speeds, the company said. It has an eight-speed automatic transmission with two clutches to provide fast gear shifts.
Even through Ferrari isn't calling this an SUV, virtually every other premium luxury brand — from Lamborghini to Bentley and Aston Martin — now offers a crossover SUV. This type of vehicle is considered critical to compete in this arena, especially in markets like China, where sports cars are not popular.
The first Purosangues will be delivered in the US around the end of 2023, according to Ferrari. Prices are expected to start at around $400,000.