This Autumn Winter 22, Marks & Spencer, operated by Al-Futtaim Group, introduces a versatile collection embodying modern, innovative and enduring designs curated for women, men, kids. This season M&S offers its customers a contemporary, relaxed and chic look, with apparels that can easily be styled in different ways. Complimented by sustainable and innovative design techniques.
Womenswear
Offering woman a diverse range from comfortable and casual, to elegant and timeless outfits, this collection represents the versatility of the season. These wardrobe essentials offer durability, style and elegance, that you'll wear time and again. These wardrobe staples have the best mix of classic, timeless, comfortable, and contemporary clothing, perfect for all shapes and sizes.
This season presents a vibrant palette of water inspired greens and aquas complemented by neutral hues, and metallic tones. Romantic florals prints add onto the autumnal makeover with contrasting prints that accentuate the collection.  Chic  collared tops and free-flowing midi dresses, add to the collection's charm. Expect fluid, shimmering satin pleated and slip skirts that easily elevate any outfit amp up the style quotient.  Faux leather, oversized slouchy blazers, tops, and trousers offer the soft touch to the structured silhouettes.
The versatile collection showcases thoughtfully designed stylish pieces keeping the customer's needs in mind. Complete any outfit with our enviable accessories from the statement leopard print camera bag, perfectly suited for all the little essentials, through to our chunky leather loafers that will take you comfortably from day to night.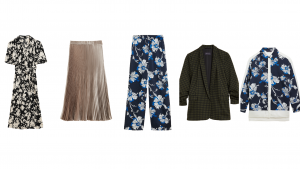 Menswear
It is the perfect time to revisit your closet, by adding to it apparels from M&S' latest Autumn Winter Menswear collection that offers a contemporary, innovative, and dynamic range of styles. A combination of authentic craftsmanship the collection exudes the essence of comfortable and contemporary fashion. Offering a fantastic range for every man to select from, it has the perfect blend of modern comfort.
Smart casuals that are aesthetically designed showcase the essence of the iconic menswear collection this season. Incorporating tweeds, wools, and cords work lay a firm foundation for easy outfit building. Rugby shirts offer a touch of nostalgia alongside retro collegiate sportswear influences across a palette of hunter green and ochre offset by petrol, mushroom, and dark navy tones.
Loungewear continues to be fashionable with its innate relaxed yet stylish appeal.  It is the perfect outfit for the weekend or chilled evening. Look stylish and feel comfortable is woven into each of the garments, highlighted by texture key and graphic prints. Grounded in core colours, space dye and marls, are the key highlights of this collection. Iconic waffle pieces and brushed check lounge pants are adapted in seasonal colours complimented by the lush soft layering pieces offering the ultimate down-time wardrobe.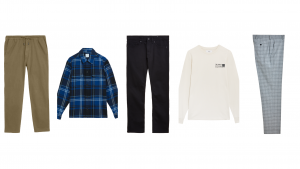 Kidswear
Marks & Spencer introduces a stylish, trendy and comfortable collection this season to add to your little one's closet. The range includes comfortable fabrics with great quality to ensure that the garments remain durable. With a selection of carefully selected and sourced fabrics, the collection aims to provide the perfect choice for kids clothing this season.
A range of apparels showcasing innovative, dynamic and creative styles with playful prints and patterns capture the essence of this collection. Vintage florals and retro prints enhance everyday dressing, with skirts and floral dresses are the must-haves this season. Crafted with comfort and functionality in mind, this collection offers the perfect choice for your little one.
In the sleepwear range, expect playful camouflage prints and fun slogans, as well as character favourites. The collection has been created from responsibly sourced cotton pyjamas. The range also includes fleecy dressing gowns and colourful onesies guaranteeing the best comfort and style this season. Ideally suited for the kids day-to-day snoozing or cosy day in.