The CHANEL Makeup Creation Studio drew inspiration from this emblematic fabric for its 2022 EYE COLLECTION. The essence of tweed has once again been reinterpreted, now taking the form of limited-edition LES 4 OMBRES eyeshadows. First created in 1982, this eye quad has become a CHANEL makeup staple.
For this new collection, four exclusive creations were designed with a tweed pattern embossed on the surface of each shade. The four-color harmonies capture the creative worth of the fabric. Just as different fibers are intertwined to form tweed, the shades can be blended, and their intensity varied, to achieve chic and bold makeup results. The eyeshadows are as effortless to apply as a tweed garment is to wear.
For this special occasion, the compacts are paired with tweed pouches crafted by Maison Lesage, which is part of CHANEL's Métiers d'art since 2002. Each of the four harmonies features a unique color palette and suits all skin tones. These versatile eyeshadows work in synergy to create a wide range of looks, from simple and natural to sophisticated.
TWEED FAUVE
The first harmony, entitled Tweed Fauve, is composed of radiant hues that bring warmth to the eyes. A combination of powerful colours between earth and fire, which combines a fiery brick orange with the depth of an intense aubergine brown, illuminated by the subtle shine of a satin coral and the reflections of an amber gold.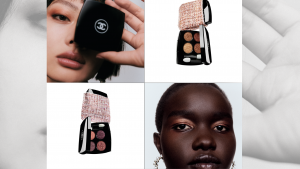 TWEED POURPRE
Tweed Pourpre combines pinks and mauves to offer a satiny and iridescent make-up look. A harmony that oscillates between softness and audacity. Tweed Pourpre brings together pinks and mauves while offering a satin and iridescent finish.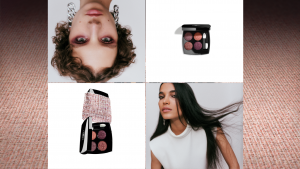 TWEED CUIVRÉ
Tweed Cuivré, makes them shine with golden shimmer. An elegant accord that evokes the richness and brilliance of the precious metals dear to Gabrielle Chanel.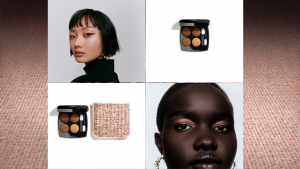 TWEED BRUN ET ROSE
Four natural brown and beige tones represent the final creation, Tweed Brun et Rose. It is embodied by four eyeshadows in natural colors with shades of brown and beige.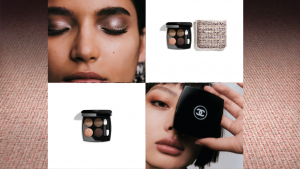 STYLO YEUX WATERPROOF
To complement these color harmonies, two new shades of STYLO YEUX WATERPROOF have been created—one, Cuivre Doré, to illuminate the eyes, the other, Bois Noir, for added intensity.