Amazi, the latest and highly sought-after waterfront residential resort development in Hawana Salalah was recently launched by Muriya, Oman's leading real-estate and tourism developer. Muriya, a subsidiary of Orascom Development Holding, an internationally acclaimed developer, and OMRAN, the leading government arm for tourism development in Oman, has teamed up with renowned SB Architects to design the project.
During an exclusive reveal event, potential homeowners, investors, and other stakeholders were able to discover Muriya's upscale, biggest and unique lifestyle development, which will be nestled across 1 million square metres of Hawana Salalah's lush prime land. The project's units that all offer exclusive waterfront living have already been selling quickly, luring discerning buyers tempted by the many appealing benefits of owning a property within the residential resort.
Tamer Dewidar at Orascom Development Holding, said, "Amazi at Hawana Salalah is expected to deliver an effortless waterfront lifestyle. The residences and villas will be ideal for holiday home owners who want to celebrate the art of living, as well as visitors from the GCC and Europe looking for amazing curated experiences. In addition, the residences are particularly appealing to investors and buyers expecting long-term and high-yield returns while acquiring Oman's residency." He added, "As part of our thoughtful, careful and imaginative planning and development, the world-class international architecture, our longstanding partner SB Architects led the conception of the superb collection of Amazi waterfront residences."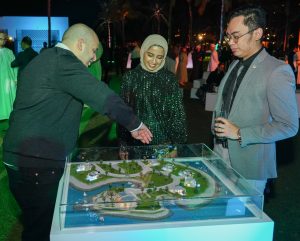 Situated along Oman's stunning Indian Ocean coastline, Amazi, Hawana Salalah will offer spectacular and unobstructed vistas juxtaposing turquoise waters and white sand beaches with breathtaking landscapes. Each thoughtfully designed residence will capitalise on its prime location with access to an array of hotel resort-like amenities and personalised services that will make future residents feel like they are on a vacation. 
Seif El Khouly, Chief Development Officer at Muriya said, "Our main focus is to develop low density properties and openness for all units, allowing the best experience possible, while keeping an eye out for complete privacy and connectivity." He added, "Our designers used the natural beauty and elements of Oman to blend handcrafted designs that combine both contemporary and traditional architecture into a timeless functional design, integrating indoor and outdoor living using wrap around pools and elegant arches to accentuate that experience."
The word 'Amazi' can be generalised as 'the source of all good things', while the residential resort has been designed to become a true water sanctuary, bringing its residents and visitors closer to nature. Inspired by the natural beauty of Wadi Darbat in Salalah, Amazi will be reflective of its unique settings. The resort-style community will constitute multiple residential districts: Amazi Rise, situated on a natural hill; Amazi Cove, with canals surrounding all units; Amazi Islands, allowing for waterfront living on a ribbon of smaller connected islands; and Amazi Beach, offering oceanfront living just steps from the white sand beach.
Hawana Salalah is Oman's largest and fastest growing tourism destination. Freehold homes, superb marina, hotels, dining, activities and more spread across 7km of beautiful sandy white beaches in the Govrnorate of Dhofar, creating an excelptional community for it residents and visitors.