Al Jenaibi International Automobiles the official importer of BMW Group vehicles in Oman, successfully launched the new BMW 7 Series. The complete luxury segment was presented at the event, including the new BMW X7 and BMW 8 Series. 
At the official unveiling event in Oman, the all-new BMW 7 Series made its first appearance with Al Jenaibi International Automobiles, as the BMW Group brings forward a new era with sustainability and digitalization at its core.  
Featuring a modern aesthetic in its renewed exterior and interior, the BMW 7 Series celebrates 45 years of success since its initial debut with the inclusion of a range of new advancements. 
Forged from a rich design heritage, the new BMW 7 Series incorporates a modern style that focuses on the essentials in both its exterior and interior design. Bold and brilliant from every angle, the BMW 7 Series and its ground-breaking evolution bring forward the unwavering sense of luxury, featuring Swarovski crystals embedded across the front lights.  
Innovative options such as the BMW Theatre Screen, the multi-sensory vehicle experience BMW iDrive with the latest generation of BMW Operating System 8 combine with the BMW Curved Display and the Manoeuvre Assistant for automated parking and manoeuvring to provide a luxurious yet user-friendly driving experience.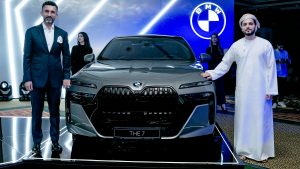 Speaking on the success of the launch, Rachid Zamani, Managing Director of Al Jenaibi International Automobiles LLC , said: "The unveiling of the all-new BMW 7 Series this evening has been truly exciting for us. It has been an absolute privilege to be involved with the journey of the next step in the BMW Group's flagship model's history. The innovation and creativity that has gone into this latest model has been truly revolutionary and we look forward to seeing the models take the roads of Oman very soon."
The new 7 Series is now available for pre-order and at the BMW Showroom In Qurum. For more information on this please visit https://www.bmw-oman.com/7andi7/ or call 80050008.