Leonardo da Vinci's Head of a Bear is being offered for sale at Christie's London as a highlight lot in the Exceptional Sale, taking place live tomorrow and is expected to sell for £8,000,000-12,000,000.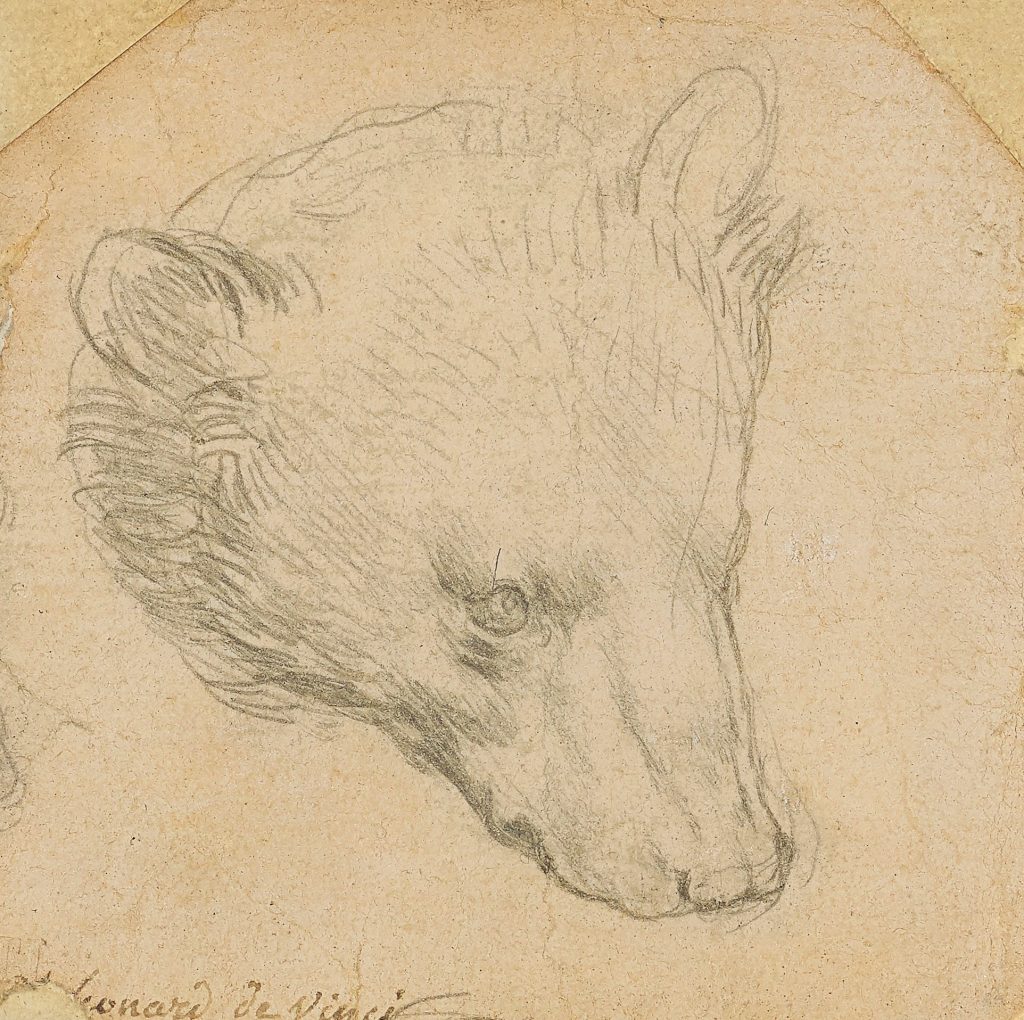 This penetrating study of a bear's head is one of less than eight surviving drawings by Leonardo and is owned by a private collector. It measures 2 ¾ x 2 ¾ inches (7 x 7 cm), it is executed in silverpoint on a pale pink-beige prepared paper, a technique which Leonardo was taught by his master Andrea del Verrocchio. The drawing is expected to sell for £8,000,000-12,000,000.
Interestingly, the face of the bear is very close to the ermine in Leonardo's portrait of Cecilia Gallerani or Lady with an Ermine now in the Krakow Museum.
The drawing's distinguished history can be traced back to Sir Thomas Lawrence (1769-1830), the renowned British painter whose collection of old master drawings is considered among the greatest ever assembled. After Lawrence's death in 1830, the drawing passed to his dealer (and major creditor) Samuel Woodburn, who sold it at Christie's in 1860 for £2.50. In the first half of the twentieth century, the drawing was in the collection of another great British collector, Captain Norman Robert Colville, who also owned Raphael's Head of a Muse, sold at Christie's in 2009 for £29,161,250 ($48,009,960).
Since its first public exhibition in 1937, it has also been shown at museums around the world including the London National Gallery's Leonardo da Vinci exhibition in 2011-12. The work was exhibited in London, The National Gallery, Leonardo da Vinci Painter at the Court of Milan, 2011-12; Abu Dhabi, Louvre Abu Dhabi; Moscow, Pushkin State Museum of Fine Arts and Saint Petersburg, State Hermitage Museum in 2018*.
Digital Companion
Christie's London has also announced a digital companion piece to Leonardo da Vinci's penetrating study Head of a Bear, via a collaboration with digital artists Hackatao, an artist duo born in Milan and who have been pioneering the crypto art space since 2018.  In response to Head of a Bear by Leonardo da Vinci, Hackatao have created a work inspired by this Old Master drawing, bringing the bear majestically to life.  This specially commissioned digital work was unveiled at Christie's King Street from July 3, as part of the Classic Week view, visible via the Aria AR app. The digital work has been donated to The Museum of Crypto Art where it will subsequently appear.