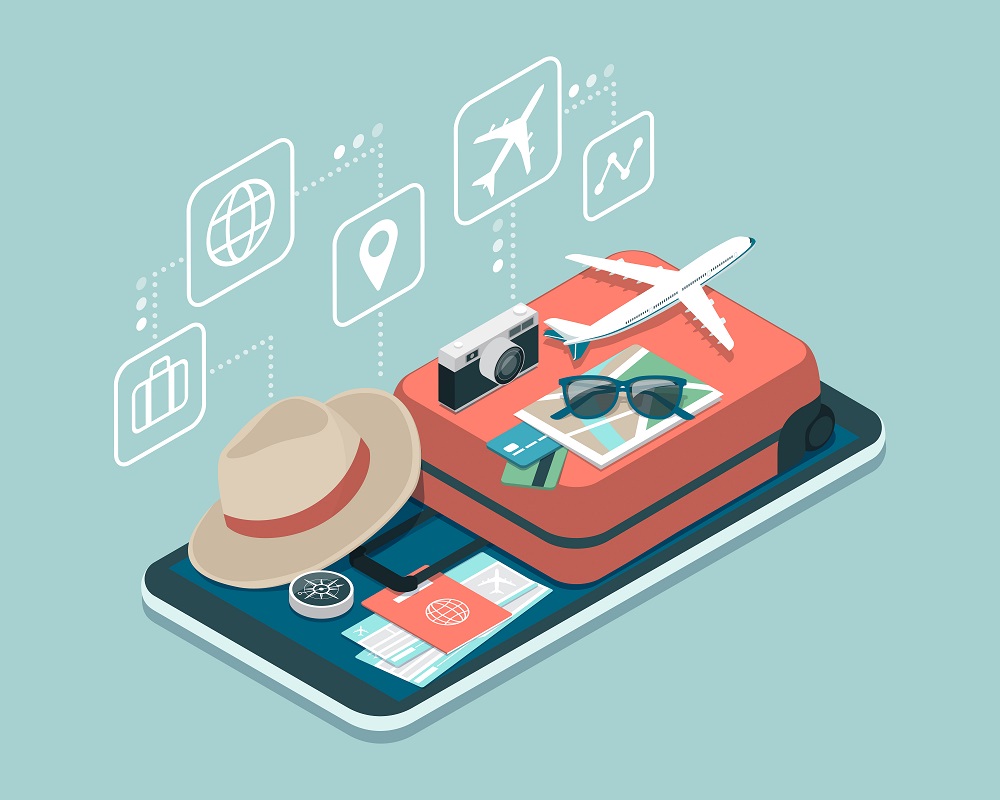 Traveling is fun and exciting but can also be the cause for a headache. With flights and hotels to book, itineraries to organize, guides to select, bags to pack, a headache is never too far away. But here is the solution! Nikita D'Souza has got you covered with a list of 5 apps, from booking flights to travel guides, that'll make travelling easier and take one more item off that list that gives you a headache.
Hopper
The most expensive part about any trip is the tickets for the trip. Hopper is a free mobile app that allows its users to book flights at a cheap deal. The tickets for international trips cost significantly less if the trips are booked at least 2-3 months in advance and Hopper informs the users of the best time to book these flights so that its users can save money.
The app provides a color-coded calendar with the expected range of fares. The users have to put in the travel dates and Hopper tells them whether to purchase the tickets or wait. Should the users decide to wait, the app will ask to watch the trip for them and notify the users when the fare is at a foreseeable lowest that it is time to buy. The app is available across both, Android and iOS platforms and is rated 4.4 on Google Play Store and 4.8 on Apple's App Store.
Packpoint
An essential aspect of any trip is packing adequately for the surprises the trip has to offer. Creating lists and figuring out what to pack can be a nightmare, especially when you are in a rush to begin your journey. Packpoint, a free app available on iOS and Android platforms, makes packing easier by creating extensive lists of things to pack on the trips.
Packpoint requires its users to set the destination of the trip, length of the trip and type of trip – business or leisure and asks them the activities they plan to engage in (for example, hiking, swimming, etc.). Packpoint also checks the weather conditions of the destination in order to create an appropriate weather suitable list for its users. The users can also add or remove items from the list based on their preferences and save it or send it to a friend. Packpoint is rated 4.6 on Google Play Store and 3.8 on Apple's App Store.
HotelTonight
HotelTonight is a free mobile app that has made booking last minute hotels easier. It allows users to book hotels last minute, when they already are at their destination, or within 100 days leading up to the trip. HotelTonight provides spontaneity to the spontaneous, a last-minute room to people who don't like planning and cheap hotel rooms to those who do like planning (within 100 days of the trip). Although, they recommend booking a room at the last hour to get the best deal possible!
The app picks up the user's location and provides a list of hotels that are "solid", "hip" or "luxe". It displays the original prices and the price the user would be paying, along with a range of facilities provided by the hotel. It also shows pictures and reviews of previous users. With HotelTonight's loyalty program, the users can save more the more they use the app and earn app money by referring it to friends. It is available on iOS and Android platforms for free and is rated 4.9 on Apple's App Store and 4.4 on Google Play Store.
Guides by Lonely Planet
Guides by Lonely Planet is a comprehensive guide to restaurants, tourist attractions, activities within the city. It contains easy-to-use offline maps, a detailed list of points-of-interests, transport information, phrasebooks in 18 languages and essential travel tips, among other features. The writers have lived in these cities and reviewed each of its attractions to provide these guides. With carefully curated guides of 216 cities, Guides by Lonely Planet is the perfect app for a tourist to explore a new city in all its glory.
The user has to download each guide separately, so they don't have numerous guides of cities they don't plan to visit. Users can, then, browse the offline map in their downloaded guide to see attractions based on their current location, with each attraction showing details like hours of operation, fees (if any), addresses, contact information, etc. The app offers in app purchases and is available on iOS and Android platforms. Guides by Lonely Planet is rated 4.9 on Apple's App Store and 4.6 on Google Play Store.
Uber
Uber is transportation made easier, accessible and relatively cheaper (compared to taxis and cabs that run on a meter). It matches riders with Uber drivers in the area, to provide quick and reliable transportation within the city. Available both on iOS and Android Platforms, with a rating of 4.2 on Google Play Store and 4.7 on Apple's App Store, Uber is a free app that offers rides day or night in over 600 cities across the world.
The user is required to download the Uber app and create an account with them. The app, then, displays a map showing "Where to?" and the user has to input their destination. The app uses the user's phone GPS to determine the user's location or the user has the option to punch in the pick-up location. The app has various options like UberGo, UberPool, etc. with the costs displayed beside each. Once the user has confirmed the ride, Uber send a message displaying the confirmation details. Payment can be done via debit or credit cards and in cash.