As a well-revered name in the industry that has been a keen advocate of ethical practices, Stylekum has announced the opening of Oman's first dedicated boutique for clean beauty products at Al Araimi Boulevard Mall. In a glittering launch event that witnessed the presence of local beauty influencers as well as leading media houses, Stylekum showcased its extensive collection of luxury cosmetics, skin and hair care essentials, and alluring Arabic perfumes.
Bringing together well-known international brands under one roof, the newly opened boutique takes pride in offering brands that are vegan, cruelty-free, paraben-free, and organic. Furthermore, the brands sold under the Stylekum umbrella also embrace the values of sustainability, ethicality, and holistic wellness.
Commenting on the boutique, Chhavi Sharma, Founder of Stylekum said, "There has been a definite shift towards clean beauty products as an increasing number of people have seen its advantages. Being non-toxic and natural, it has already earned the reputation of being better for skin and health. However, the benefits go beyond – it encompasses a broader environmental angle. Ethical sourcing, cruelty free, no animal testing are some key features of the products we represent. In a nutshell, it is the kind of product that is good for you and good for the planet. At Stylekum, we seek to offer an extensive range of such products from the finest brands."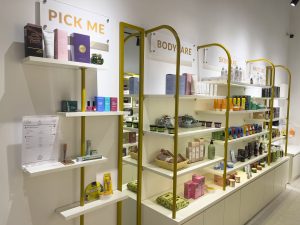 The brands under Stylekum have been thoughtfully chosen keeping in mind the refined tastes of the local market. It currently includes popular names like NAM a vegan professional makeup brand , Lafz a Halal cosmetic brand, Zaynmyza – no chemical, no nasties personal care & makeup brand, The Face Shop – Korean clean beauty brand , Luban Oman – Frankincence based skincare amongst others. 
Stylekum's clean beauty products harness the power of organic extracts, plant-based ingredients, and essential oils. 
Setting a new benchmark for clean beauty in Oman, Stylekum has garnered significant recognition in the market and has been commended for its pioneering move. Clients can either opt to visit the physical store in Al Araimi Boulevard or shop online soon.