La Prairie Clinique brings the finest in wellness and health with a unique new Private Chalet in Verbier that is designed to transport guests to a world of week-long relaxation and luxury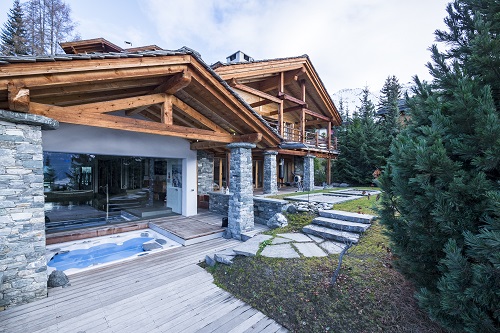 Switzerland is often associated with chocolates, cuckoo clocks and picture-perfect landscapes. Yet, another equally attractive and enticing feature of the country is the luxury spas. Exquisitely designed and featuring some of the finest treatments, Swiss wellness spas are a class apart. Adding to the wellness landscape in Verbier is Clinique La Prairie's new Private Chalet.
Offering the most exclusive experience to detox in utmost privacy and luxury, the award-winning Clinique La Prairie (CLP) unveiled a one of a kind Private Chalet in Verbier.  The CLP Private Chalet is designed to transport guests to a world of relaxation, all-encompassing a week-long luxury hideaway designed in true CLP style. With breathtaking panoramic views of the Swiss Alps, this unique facility is devised to provide guests with unrivalled health and wellness care, while they breathe in the pure Swiss mountain air.
Open from end of April to end of September only, this private retreat delivers an exceptional level of customization with qualified and discreet staff dedicated to ensuring one's complete wellbeing along with an on-site personal chef and waiter, a private chauffeur and a spa therapist, all available around the clock at the guest's service.
Set in the beautiful Alpine village of Switzerland, guests will be whizzed away in a limousine to this secluded getaway in Verbier that comprises a stunning penthouse master suite with a jacuzzi, a private terrace and four luxury bedrooms, all designed to offer the most magnificent views. Other exclusive amenities also include an indoor infinity pool, massage therapy room, spa with jacuzzi, sauna, an indoor hammam and an outdoor fitness lounge built with the latest equipment's. A Canadian cedarwood hot tub will calm your mind and body after you have entertained yourself in their games room, billiard table and darts and high-tech cinema.
The programmes offered by CLP at this exclusive Chalet experience are the Revitalization and Master Detox program, both of which are tailor-made to suit every individual's body needs and requirements.
Ideal for patients above the age of 40, the CLP Revitalization therapy aims to slow down the body's ageing process by promoting stem cell renewal and awakens the immune system to improve the body's physical and mental health. This is ideal for those suffering from loss of energy, exhaustion, burn-out, frequent health issues and a slower immune system. In just six nights, this therapy aims to help the body to maintain high performance, increase energy and balance and contribute to one's longevity.
The program also includes an exclusive genetic testing along with medical check-ups, chest x-rays, abdominal ultrasound and an ECG. During the stay, guests are also encouraged to reenergize the body with spa massages, facial treatments as well as sports activities, all available on demand.
The Master Detox program is a week-long therapy offering an innovative genetic test which promises to reset the body and mind by eliminating toxins to kickstart a healthier lifestyle. With full board in CLP's luxury Chalet, this therapy includes special detox menus and doctor consultations to tailor make the program to suit your body's needs.
After conducting several medical tests, guests are treated to a cellular detoxifying body treatment, visceral manipulation therapy, reflexology, photostimulation therapy, cellular purifying facial reflexology, and a cellular detoxifying body wrap. This program also includes anti-stress and relaxing outdoor activities to truly relax one's body and mind.
The private Chalet offers the same holistic and scientific approach offered by Clinique La Prairie, but elevated to a luxurious level to ensure every comfort one could wish for from a private wellness