LUX* North Male Atoll, the newest resort in the Maldives, brings a South Beach pulse together with a super-yacht panache to introduce a new premium experience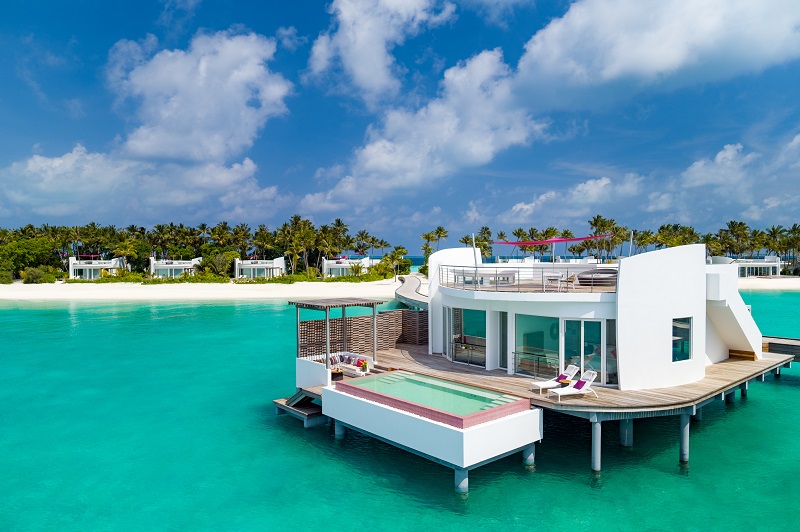 Bringing a new concept and experience to the famed Maldivian luxury service, hospitality and living is the brand-new LUX* North Male Atoll. This new resort presents a disruption to the Maldivian mould with over-sized, penthouse residences, which demonstrate fresh forward-thinking design for the Indian Ocean. By blending super-yacht panache with a South Beach pulse, these standalone stays upstage the traditional thatched villa vibe. Discerning travellers seeking a smooth transition to holiday mode, have enriching adventures ahead, along with pure peace and pampering so they can reset, recharge and recalibrate — uninterrupted. A short transfer from Male by luxury speedboat or scenic seaplane, as remote as this desert -island resort may feel, it is easily accessible, yet far from any other islands.
DESIGNED FOR SPACE AND PRIVACY
Singaporean design house Miaja specialises in styling unique properties to reflect the beauty and charm of their surroundings. Inspired by the curves, lines and the impeccable finish of a luxury boat and its sails, it has taken years to perfect this resort on Olhahali, a six-hectare island fringed by white-sandy beaches. Welcome to a new level of living thanks to these 67 double-storey residences each featuring a private pool.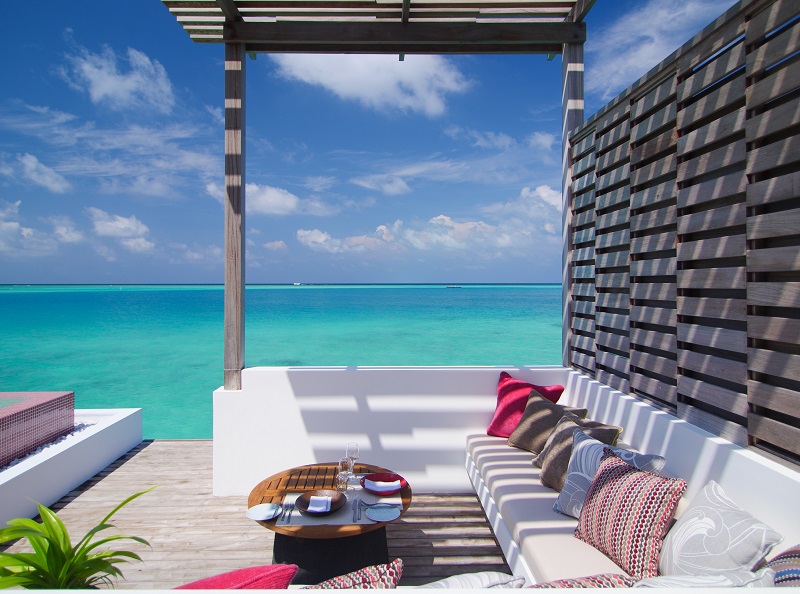 VILLAS WITH A VIEW — RETREAT, RELAX, PLAY
Each of the residences sits right on the beach or over the water with living areas that are at least 350 sqm. These breezy, spacious villas host a choice of spaces in which to eat, drink, relax — from the rooftop relaxing areas to the sun terraces — treating guests to continuous pastel panoramas of the Indian Ocean. Hide away entirely with intimate barbecue dinners in the privacy of your own penthouse villa, stargaze using a telescope and have your personal villa host explain the Maldivian skies or simply summon the bartender to shake up your favourite cocktail right on your roof terrace. The oversized bathrooms with bath and couples rain shower, are supplemented with an outdoor shower.
Throughout the guests' stay, the butler-style villa host will give all the assistance — or privacy — needed and will never be short of ideas to make each moment on the island extra special. Indulge a passion in painting or sketching, or simply switch off and savour the serenity.
INSPIRED DINING
In the mood to mingle? Venture out to charismatic social spaces to relax among other cosmopolitan guests. The resort's team has mastered balancing salty, sour, sweet, bitter and umami flavours in all that they do, serving their original dishes and drinks in unusual, uplifting environments. Barium is the secluded private dining room with a wow-inducing underwater fish tank. Join other guests in eclectic beverage tastings, communal chef tables or opt for a private dinner for you and your friends. INTI is the Peruvian-Japanese restaurant with a prepared-in-front-of-you sushi bar. Chef Gaston, the Maldives' only Peruvian chef, prepares smoked guacamole, ceviche and aged meats introducing guests to this exotic and exciting cuisine laced with tastes from Peru, Argentina, Japan, Ecuador and Mexico. Expect pisco sours and a dazzling range of sake. Travel the globe at GLOW, as it showcases the best of European classics, Italian and Spanish delicacies through to South East Asian specialties. The celebrated Beach Rouge has a pool-club feel, combining strong contemporary lines, world-class cuisine, a wood-fired pizza oven, and Josper charcoal grill as well as awe-ensuring views over the infinity pool — all sound tracked by a live DJ. Soak up that sunshine on loungers by day, make a splash with a jump in that pool, sip sun-downers at the bar and enjoy a nightcap at the rooftop shisha bar.
A WELLNESS SANCTUARY
This over-the-lagoon world of wellbeing is no ordinary spa. The two-hour treatments for twosomes include body scrubs, massages and aromatherapy bathing rituals, ensuring guests never miss a moment together. Feel stress and tension melt away with a Watsu session — Zen Shiatsu in the water reaches  the parts that other therapies can't. The treatment rooms are right over the water in view of where the ocean currents collide.  Private spa treatments in the villa or in the fresh air on the rooftop are also available.