To be disconnected, even if for a few hours, in the excessively connected world we live in today can be quite challenging. Anne Kurian heads to Coco Bodu Hithi in the Maldives to indulge in some much needed time away from the digital world and for mindful experiences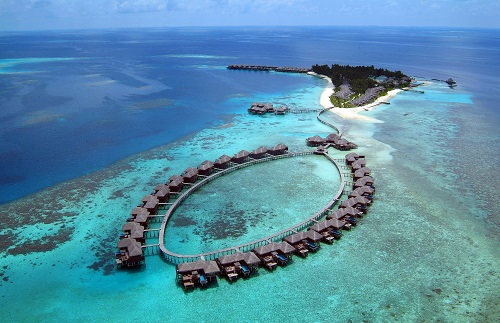 Is it truly possible to switch off from the excessively connected world we in live in today? That was the burning question on my mind as we boarded the flight to Male one pleasant evening. Most of my two hours in the airport was spent poring over emails and replying to interesting story pitches. I had also posted on Instagram a cool shot of the coffee I had at the airport, downloaded a new app to jazz up future Instastories and chatted with a couple of buddies on Messenger. So, would I really be able to follow up on my goal to go on a digital detox and have a mindful holiday during our stay at the exquisite Coco Bodu Hithi resort over the next four days?
This thought was playing on my mind as we stepped on to the private boat that was sent to take us to Coco Bodu Hithi, just about 40 minutes away from the airport. Most resorts in the Maldives are accessible only by boat or seaplane. As poetic as it may sound, much of my apprehension melted away as soon as we stepped on to the island resort. From the moment of stepping onto the picture-perfect resort, there is a beautiful feeling of tranquility that settles on you and all you want to do is forget the world that you have left behind.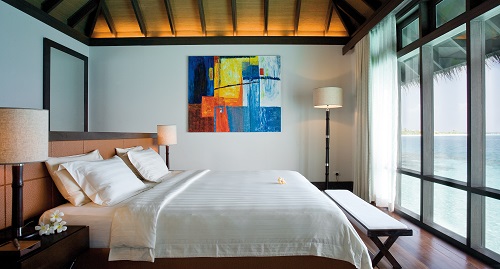 Home away from home
The resort, which has a mix of water villas and island villas, is spread over a palm-fringed island that can be explored in about 20 minutes. We stayed at Coco Residences, the most exclusive offering at Coco Bodu Hithi. Set over the ocean, the villa included a living room, bedroom, an expansive bathroom, and an outdoor deck with an infinity pool as well as space to lounge and dine.
While I took many photos, there was not one that went up on social media. My mind had already switched to holiday mode and the wifi, although strong, was not tempting enough to get on to social media. Digital detox was underway.
The next four days were spent lounging in the pool, swimming in the ocean, which was accessible directly from our villa, lazing on the deck and enjoying specially prepared meals by the chefs – when we weren't out indulging in various activities and experiences on the island.
Spoilt for choices
Coco Bodu Hithi is home to six different F&B outlets, all of which are different from each other and bring an exciting variety to the island resort. For a leisurely and unhurried breakfast, Stars was our choice. Here we enjoyed fresh cut fruits, perfect eggs, and excellent coffee while soaking in the beautiful view of the ocean and palms swaying in the wind. Also open for dinner, the restaurant has a fine choice of seafood specialties as well as vegetarian options. If buffet breakfast is what your heart desires then Air, located on the lush green island and connected to Coco Residences by a wooden bridge, is where to head to. The spread is staggering and leaves you spoilt for choice.
Latitude is where we headed to for sundowners and to grab a pizza after a lazy day at the beach. The casual dining outlet overlooking the pool that features jazzy lights in the evening is ideal to sit back, sink your feet into the sand and gaze at the ocean as you enjoy the different concoctions that the friendly staff create. The resort also boasts of a Japanese cuisine restaurant – Tsuki. Adorned with island vibes, Tsuki had some of the best sushi and sashimi I have ever had. Aqua, termed as one of the finest seafood restaurants in the Maldives (award winning as well), offers a surreal experience of dining over the ocean with a number of decks where one can enjoy a lovely dinner comprising mostly of delectable seafood dishes.
Being on an island gives the option of not having to dine the regular way – Coco Bodu Hithi arranges for special dinners on the beach as well as in the privacy of the villas. We could not go ahead with the beach dining experience as the rain gods decided to bless the island with heavy showers on the night we were booked to dine. But we did indulge in a couple of in-villa dining experiences and it was heavenly.
A Spa-ctacular experience
One of the most wonderful highlights of Coco Bodu Hithi is Coco Spa. Set over a large, separate deck over the ocean, Coco Spa is a class apart. The treatment rooms overlook the glimmering water; so does the gym and yoga and meditation deck. We indulged in a mind-numbingly relaxing and rejuvenating couples' massage that left us in a state of bliss. My therapist worked through the knots on my shoulder that I had managed to accumulate over weeks of sitting in front of a laptop and no exercise. The lull of the ocean added to the therapeutic session.
The island life
Azzure blue waters, lush greenery, white sandy stretches, unhurried and undisturbed moments…that's what we experienced every day of our stay at Coco Bodu Hithi. The break from the daily hustle and bustle (with digital detox well underway) was not only beginning to be therapeutic but also a step towards to take a mindful approach to just about everything we engaged in.
When looking for manta rays, which are one of the highlights of the ocean around Coco Body Hithi, it was with a child's curiosity and excitement that we explored the water. Every activity on the island is fun, engaging and relaxed. We set out with a group of guests one afternoon for a fishing expedition, something that I had done as a child over one weekend and forsaken because I could not catch any. Luck turned in my favour on that balmy afternoon we set out and I managed to catch a local species of fish, which the resort cooked for us together with a splendid lunch the next day.
Diving, snorkeling, kayaking, water-surfing, para-gliding, wake-boarding…it's a plethora of activities that Coco Bodu Hithi offers. And never a dull moment on the island. Movie under the Stars is another experience that the resort offers, which we had to forgo as rains were expected and it was way too windy to set up the movie screen. But we made it up by ordering a special meal and watching a horror movie in the villa.
After four days at Coco Bodu Hithi Resort, it was with renewed vigour and a promise to take more breaks, especially from the digital world, that we left the captivating island.