Boucheron's new Holographique High Jewellery collection is a magnificent result of Creative Director Claire Choisne's experiments with light and colour.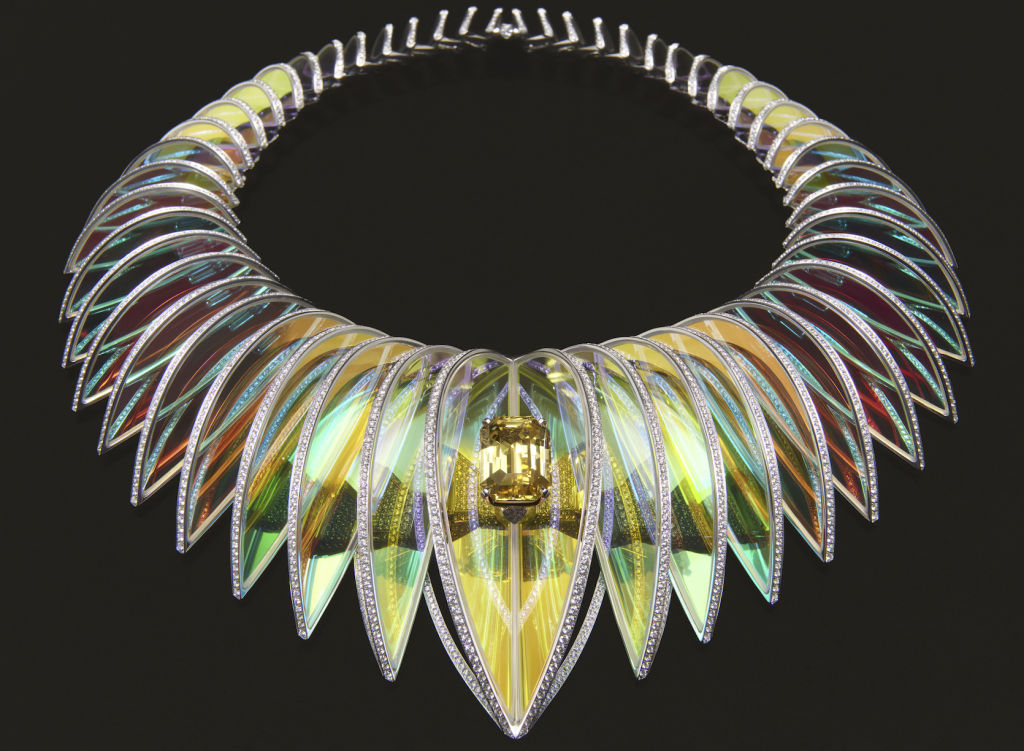 For the July collection, in what the house calls 'Carte Blanche', Boucheron's Creative Director Claire Choisne unleashes her creativity to unique pieces that veer from traditional high jewellery yet form an exquisite array of designs that feature materials such as sand, marble, and Space Age aerogel and collaborations with industrial engineers. Choisne, who was inspired by the work on light and colour by artist Olafur Eliasson and architect Luis Barragan, has designed each piece across this collection with holographic as its central theme. The collection encompasses nine sets, which include twenty-five unique pieces that delve into the very roots of this photosensitive phenomenon and its Greek etymology, which means 'to represent everything'.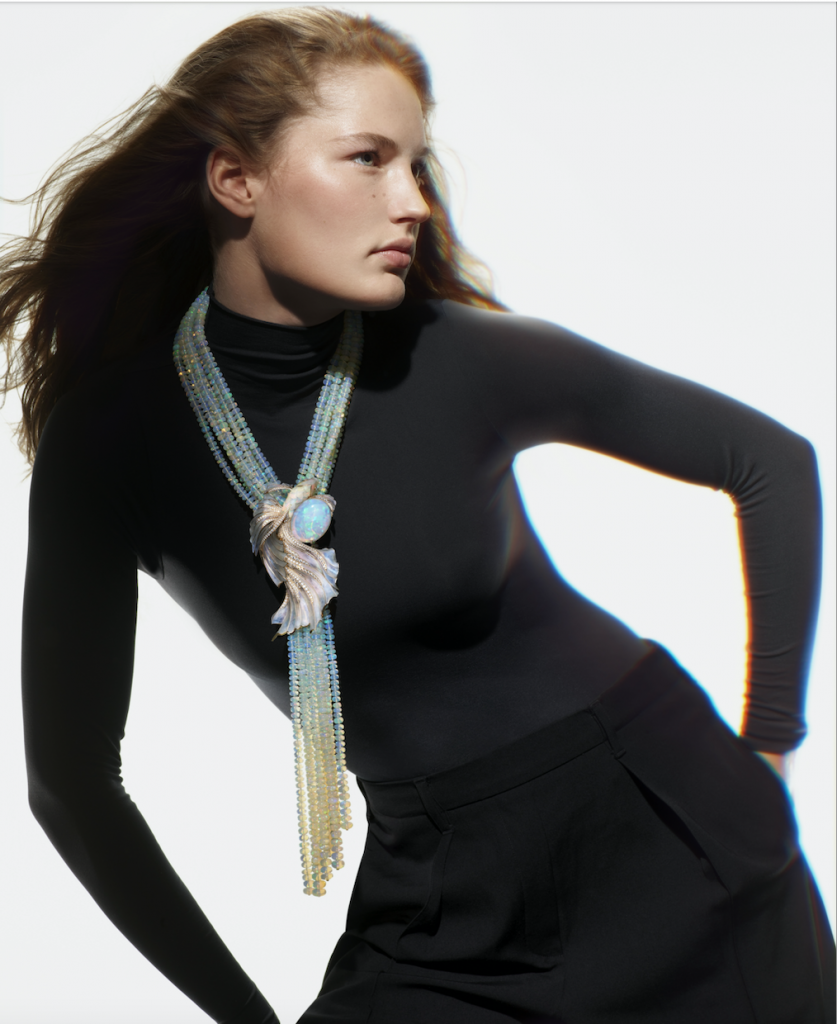 OPALESCENCE
At the centre of this set composed of a necklace and a single earring, a betta fish with couture fins emerges from the heart of a sea of powdered opal. Crafted using the plique-à-jour technique, its couture fins let light appear through their transparency. The striking material is placed around a central opal, which can be transformed into a brooch or placed delicately in the hollow of the ear to create an asymmetrical, ultra-modern jewel, in line with Maison Boucheron's DNA.
ONDES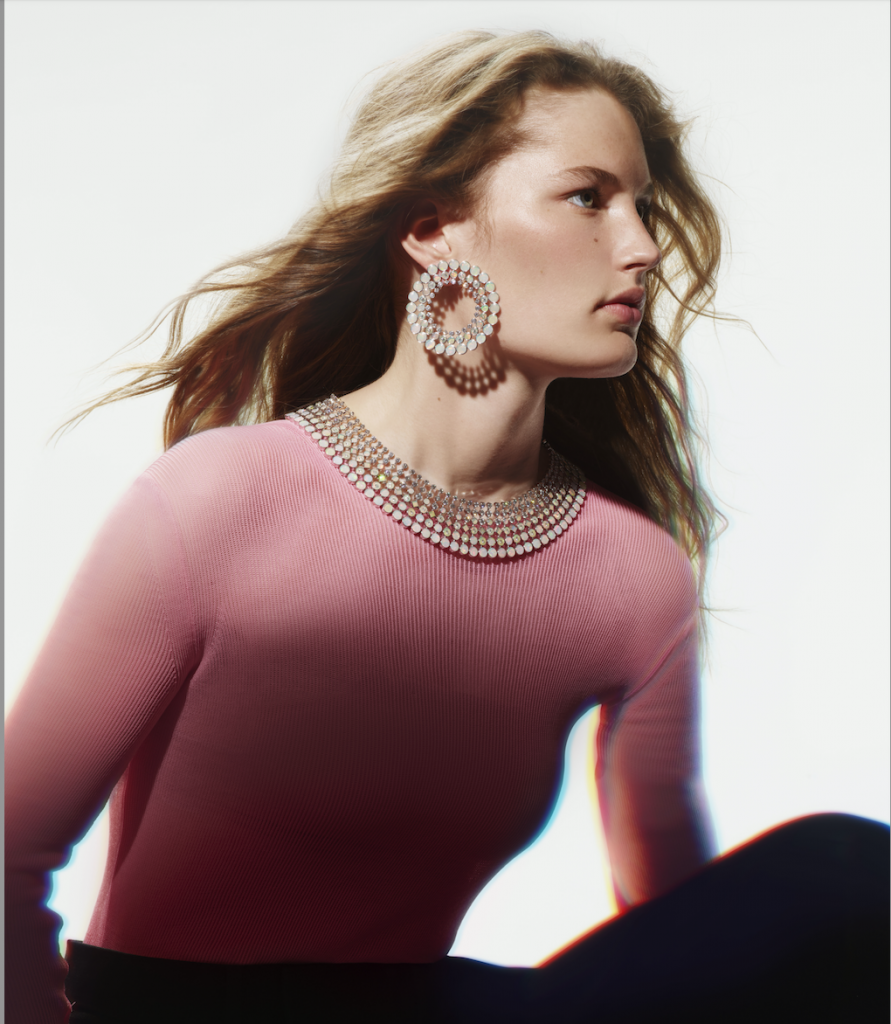 A stand-out piece in this collection, the opal's brilliance is enhanced on both the necklace and a pair of earrings. A river of opals with a fine stream of diamonds, elegantly caressing the skin and capturing the radiance of light that ricochets across the surface of sensual waves.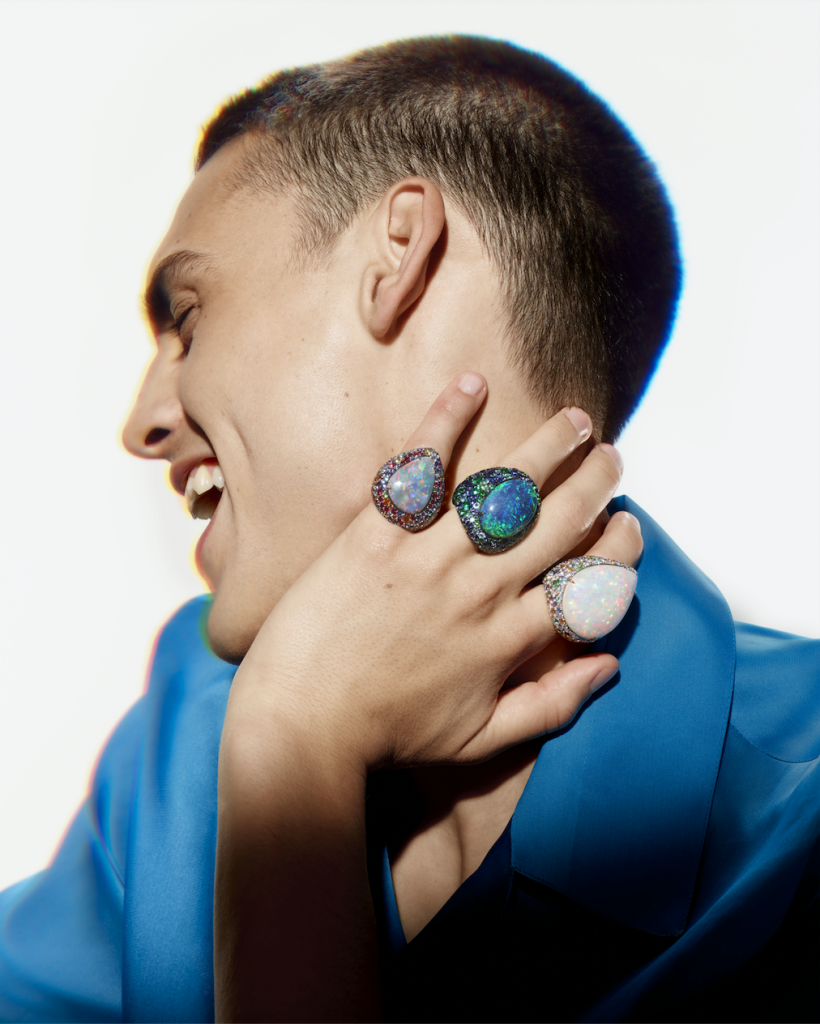 ILLUSION
These three central opals from Australia and Ethiopia attract everyone's attention due their size (one pearly, one pear-cut and rose colored, and the third with blue-green shades revealed in a cabochon). The spectacular trio of rings creates visual effects that multiply their size due to the trompe-l'oeil frames. A second skin adorned with a gradation of multicolored stones, skillfully set in invisible white gold, which varies and evolves according to the daylight.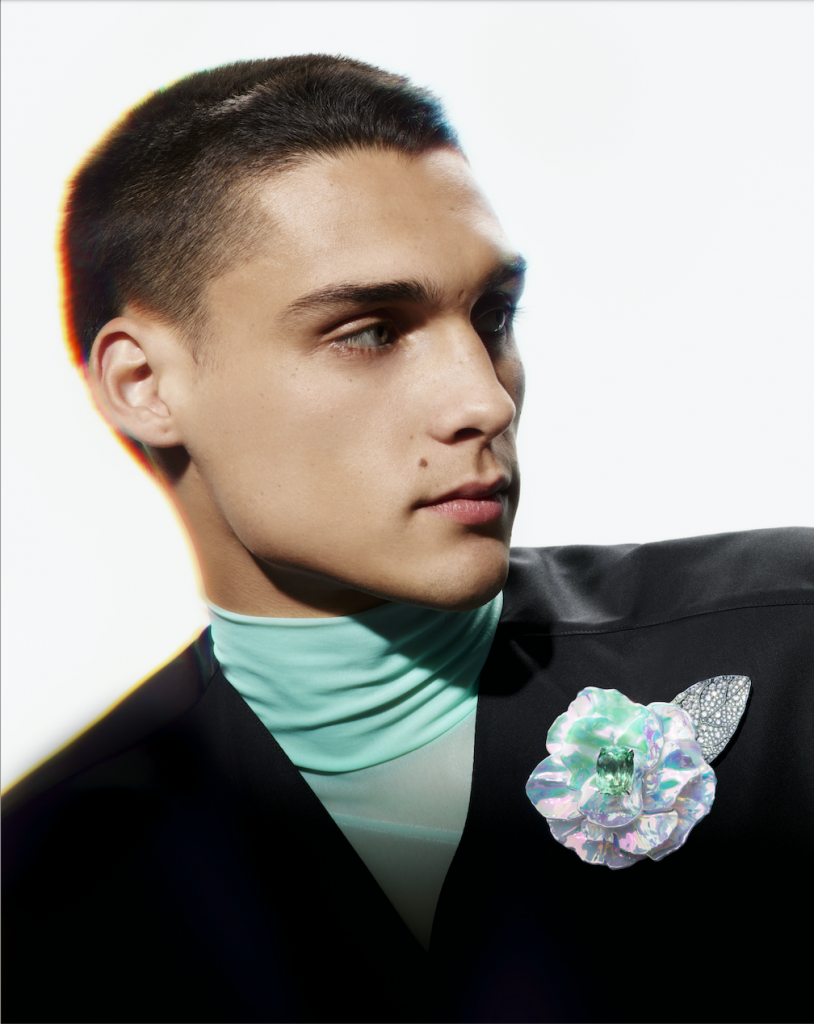 CHROMATIQUE
Continuing the epic of Fleurs Éternelles, this chapter celebrates nature, a theme dear to the Maison. Here too, Claire Choisne chose to celebrate its imperfect beauty with disturbing realism by scanning each petal of peony and pansy to recreate its curves and volumes as precisely as possible. A multitude of details even more realistic than Mother Nature, molded from white ceramic, both more resistant and difficult to craft. Surrounded by a mixture of precious metal microparticles sprayed at high temperature and affixed within a layer, these petals are imagined from a dream-like fantasy. Changing colours, almost surreal, add fuel to the fire. The first set adorned with this holographic coating, consists of a pair of rings and a brooch, which taken together offer a new unique playing field.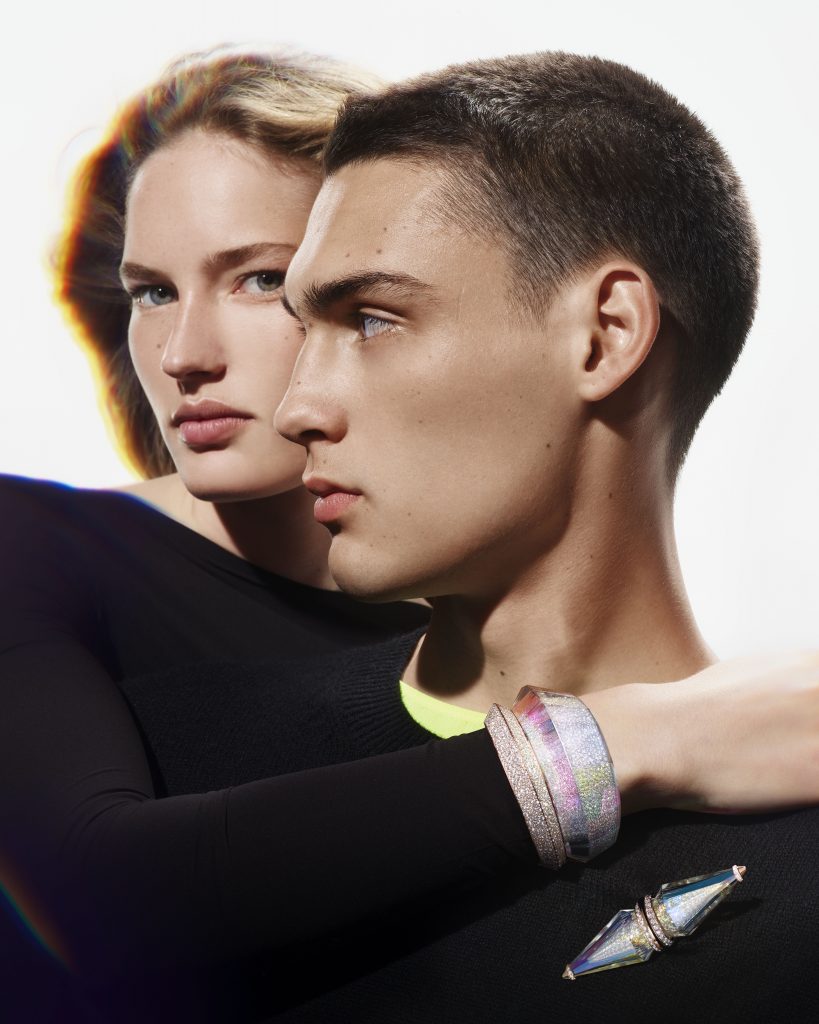 FAISCEAUX
If ceramic is the new sensation, Claire Choisne had to include Boucheron's signature rock crystal to this new graphic game. A new approach to the material gives depth and character to this rock crystal set of cuff and brooch: first, a Jack is forged from diamonds, before receiving its very own see-through dress in the form of a transparent rock-crystal covering. While the coating is easily applied to a flat surface, it is more difficult to apply it evenly to all facets of the Jack. The double effect of a material that sets the sharp ridges of this brooch ablaze – a result radically different from the opacity offered by ceramic alone.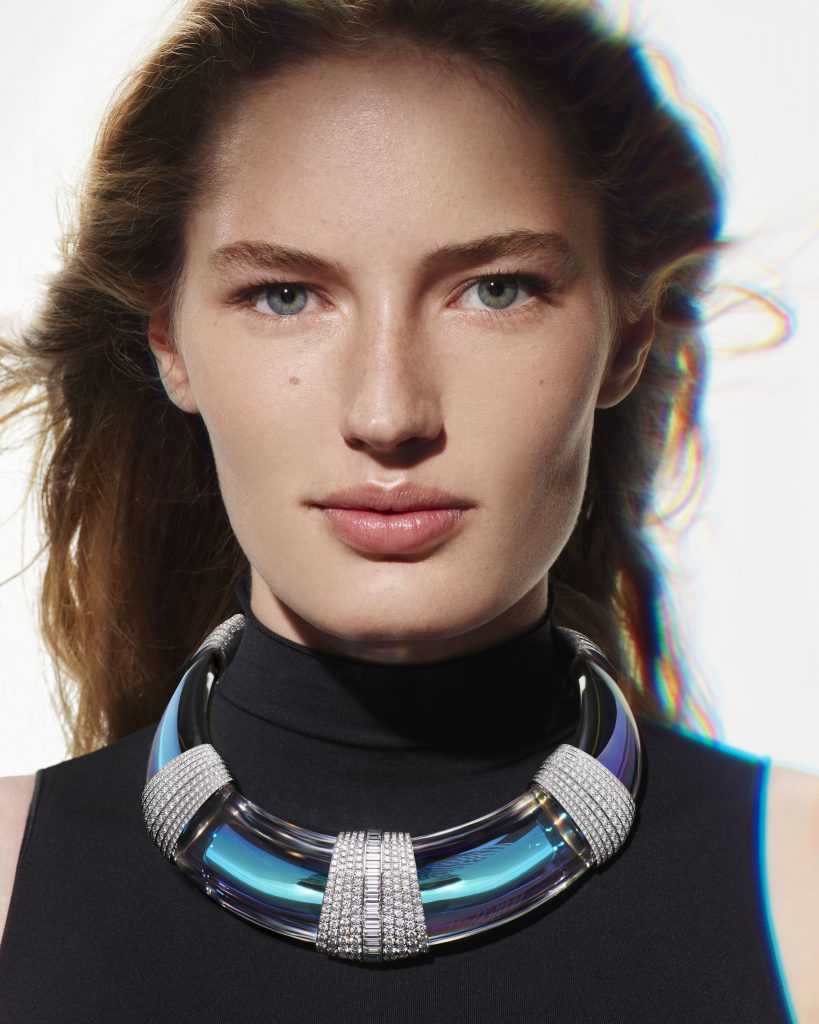 HALO
An airy yet intimate set featuring voluminous designs dear to Claire Choisne, from the allure of the torque to the calibrated ring to slip through your fingers with disconcerting ease. Perfectly transparent, the rock crystal is subtly covered with a layer of holographic coating to achieve the soft and comforting vibrations of a weightless soap bubble. A sparkle accentuated by diamonds, which can be found both on the double-sided cuff and on the architectural torque necklace, cuff, and ring set.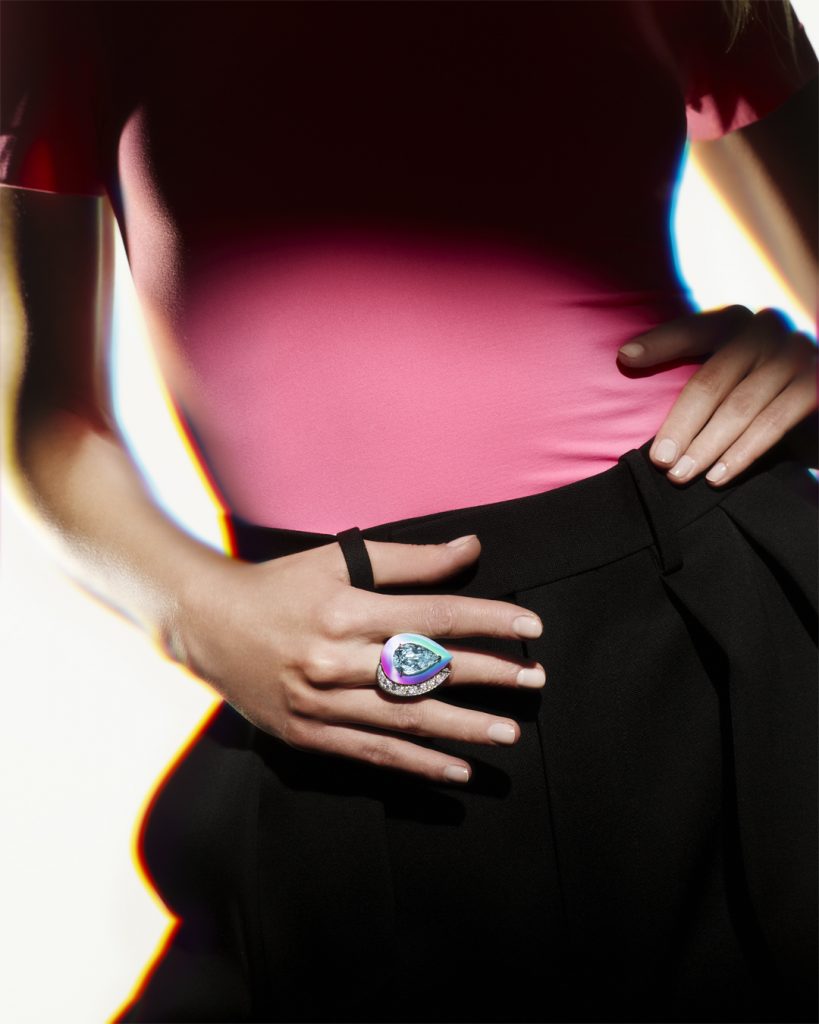 LASER
Celebrating the iconic pear-cut motif of the Serpent Bohème collection, the Laser set is also enhanced with pigmented ceramic. While the mechanics of High Jewellery always revolve around a chosen stone, here the process is reversed. How to find a stone whose tones would best match this holographic effect? The answer comes in the form of an abundance of pear-cut aquamarine with lagoon nuances, which adorns the contours of a necklace, a pair of earrings and a ring made even more transparent and luminous by this subtle blend of ceramic and diamonds.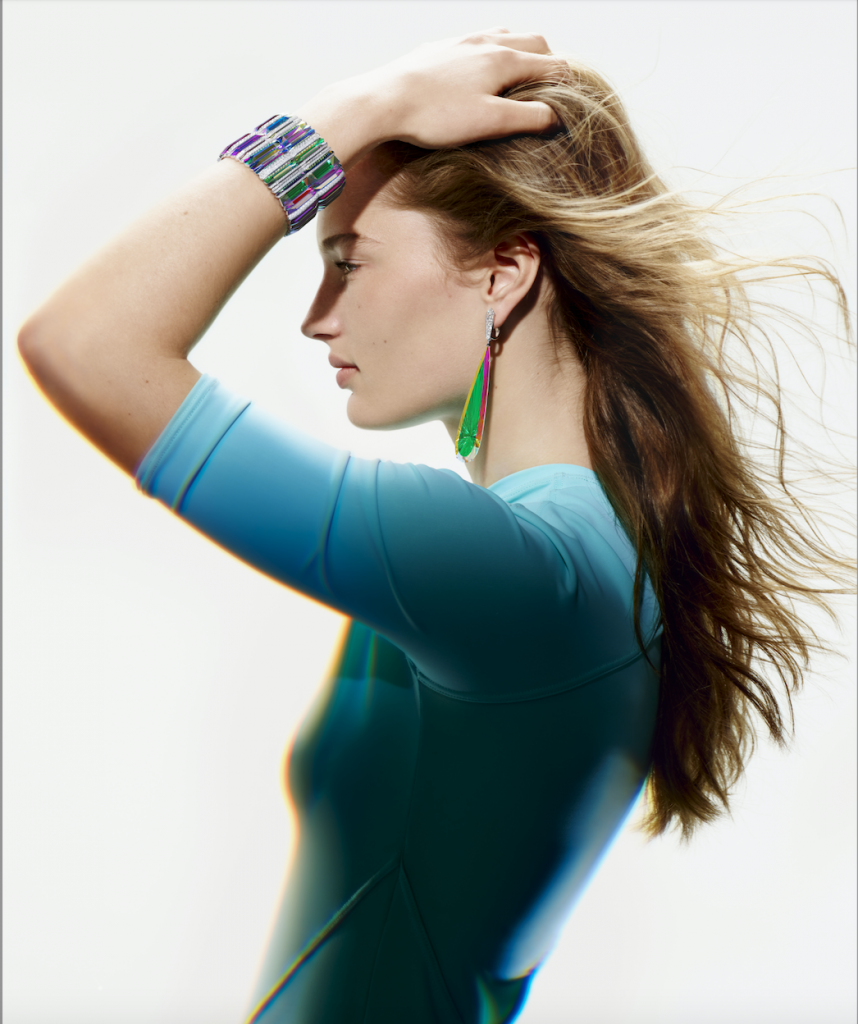 PRISME
While the bracelet displays multiple rows of crystal and aligned diamonds that play with the light, the ring, and pair of pendant earrings in this chapter revert to a stretched pear cut. A deceptively knowing appearance that conceals a subtle twist: slight notches drawn on the culasse that nestle behind the jewel to duplicate its radiance.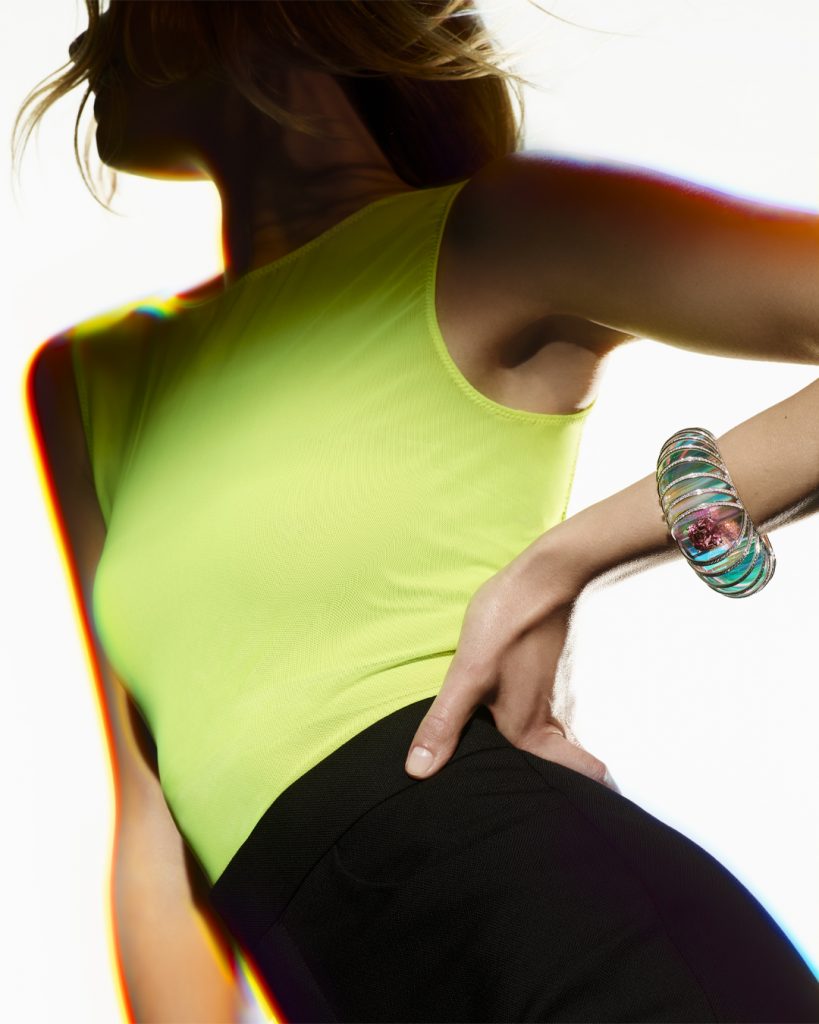 HOLOGRAPHIQUE
A true stroke of brilliance that celebrates the magic of the material, this necklace of fine crystal blades was created whilst the sun light streamed into the workshops reproducing the design of the projected shadows and studying its structure. The result was a graphic line guided by this light, which is not only at the heart of the piece's inspiration but also of its creation. From the cuff to the ring including the plastron, the brilliance of the diamonds that adorn each edge of this lacquered necklace with the holographic coating make it a genuinely avant-garde set.