Al Mouj Muscat launched Al Mouj Business Park, with a vision to reimagine how business success is delivered. The new business destination is situated within Al Mouj Golf, one of the World top 100 golf courses, with an exemplary location not seen anywhere else in the Middle East.
At the launch, a group of esteemed business leaders from across the Sultanate were presented with the premier lifestyle destination's vision for a park where its occupiers will enjoy an oceanfront setting and a delightful outlook across the golf course. They will also benefit from superb connectivity and transport links and the support of Al Mouj Muscat's world-class leisure, commercial and tourism amenities.
The state-of-the-art complex offers 39,000 square meters of office space within eight mid-rise buildings set across two districts, three in Business Park East and five in Business Park West. Built to exacting Grade A standards, the buildings are separate yet seamlessly connected by beautifully landscaped gardens and outdoor spaces designed to be convivial to business networking.
Offices range from 3,990 to 5,320 square meters with flexible floor plans and where the average floor plate is 1300 square meters. There will be rooftop gardens and each building will have controlled access basement car parking of between 115 and 148 spaces per office block, one of the most generous in Muscat.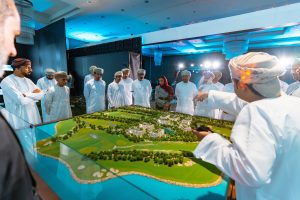 Companies choosing to locate at Al Mouj Business Park can take advantage of a sophisticated meetings and events ecosystem within neighbouring 4 and 5 star hotels and event spaces including those at Al Mouj Golf which has both a restaurant and an events marquee. The Okura Hotel and St. Regis Al Mouj Muscat Resort are adjacent to the park and the Kempinski, the Mysk and Rotana are in close proximity.
Al Mouj Muscat CEO, Nasser bin Masoud Al Sheibani said: "It is a great honour to launch our Business Park, a unique destination where business can be reimagined. We are looking forward to seeing Omani companies take their enterprises to the next level by choosing a base that, unlike traditional business parks, provides staff with a high-tech working environment which also supports their well-being and productivity."
In addition to providing a top-quality environment inside and out, transport links are excellent as the park is directly accessible through the Muscat International Airport's intersection and only 10 minutes to Muscat City Centre, and 15 minutes to the Oman Convention & Exhibition Centre.
Hei added,  "The launch of Al Mouj Business Park clearly shows that it is possible to mix business with pleasure and we are confident of its success and how it will build on the extraordinary impact Al Mouj has had over the last 17 years as an engine for growth across tourism, employment and development."
A joint venture between the Oman government and Majid Al Futtaim Properties, Al Mouj Muscat is a dynamic and diverse community, now home to 8,000 residents and which attracts 4.9 million annual visitors to its coastal setting, boulevard style retail and dining experiences, luxury hotels, 400-berth marina and multi award-winning golf course.