For all LOTR and Middle Earth fans out there ! You can have your on Hobbit hole for a holiday in Vermont, USA!
Given the hype and the massive opening for Rings of Power yesterday on Amazon Prime, this seems like a perfect little Hobbit hideout with your family!
The hillside home is the creation of Pepper and Cynthia Clayton, who were inspired by the first "Lord of the Rings" movie in 2001.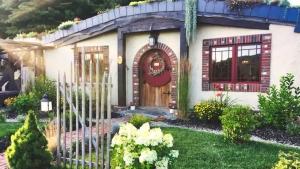 Now the Bag End-themed getaway is ready for its next stewards. The one-bedroom, two-bathroom hillside home is on the market — along with a nearby one-bedroom, one-bathroom cottage — for $788,000, according to the listing on SpecialFinds.com.
The 1,100-square-foot Hobbit House, complete with a Shire-style round door and grass-covered roof, is separated into two sections: "Baggs Inn" and the "Double Dragon Pub."