The family owned Rasasi Perfumes was founded by visionary Abdul Razzak Kalsekar in 1979 in Dubai and is now being carried forward by his sons, all dedicated to a specialised  task, yet collectively achieving  the core objective of brand growth. Over almost four decades, the company has built a solid foundation of pioneering entrepreneurial vigour, creating some of the best and most exclusive fragrances, which have established a worldwide reputation for quality, luxury, and elegance. Rasasi's Oriental and Occidental perfume lines have found wide acceptance and preference within a wide customer base across the world, including here in Oman.
Below we list some of our top Rasasi favourites that we believe will make the perfect gift, no matter what the occasion.
Hawas For Him & Her
Hawas for Him blends cinnamon, bergamot, orange blossom, grey amber and sandalwood to create an aquatic scent designed to embody masculine strength and vigour. Hawas for Her incorporates pomegranate, jasmine sambac and vetiver for an haute couture perfume aimed at women who are seeking an edgy, yet chic fashion statement. The sensational floral woody fragrance is infused with the exotic gourmand scents.
Qasamat EDP series
Qasamat, is a series of four unisex fragrances inspired by the rich perfumery traditions of the Middle East. The opulence and enigmatic mystique of oriental olfactory finds a contemporary expression in four unique scent journeys which are addictive and accentuated by distinctive features. These perfumes celebrate the love for bling as a language of self-expression in modern times and revel in easy elegance and an irresistibly infectious joie de vivre. The collection is made up of Qasamat Rasana, Qasamat Bareeq, Qasamat Ebhar and Qasamat Morhaf.
Sotoor series
Sotoor, is a series of four modern-oriental fragrances inspired by Arabic script. The intricacy and the beauty of Arabic calligraphy make a striking statement against a very international and contemporary design backdrop. Mystique of the east and the minimalism of west come together in this collection of highly desirable young unisex perfumes, bursting with joyous energy and spunk. Originally targeted at millennials, the collection is making quite a splash by hitting the right notes with customers of all ages.  The Sotoor collection is made up of Sotoor Raa, Sotoor Taa, Sotoor Waww and Sotoor Seen.
Junoon series
Junoon is a trilogy of niche fragrances inspired by mankind's obsession for finesse and luxury. Incorporating the best of internationally trending niche notes, Rasasi's quest for olfactory perfection finds expression in this precious collection of extraordinary aromas. Junoon-Satin, the first edition of the series is a voyage of refinement & subtlety through the middle ages meandering through Chinese city of Quanzhou (which gave satin its name), a major shipping port along the famous Silk Road to the boudoirs of the elite in Europe.  Junoon-Velvet, the second edition of the Junoon series is a throwback to the XIIIth century wherein Kashmiri merchants introduced this very soft and plush fabric which soon became a signature of nobility and found its way into the fashion ateliers of Europe and the boudoirs of the royalty. Junoon-Leather, the third edition of Junoon series is inspired by leather, a material as ancient as the mankind itself. Leather has been associated with power, strength and vigour from times immemorial. Leather has always been in vogue with the elite and the sophisticated.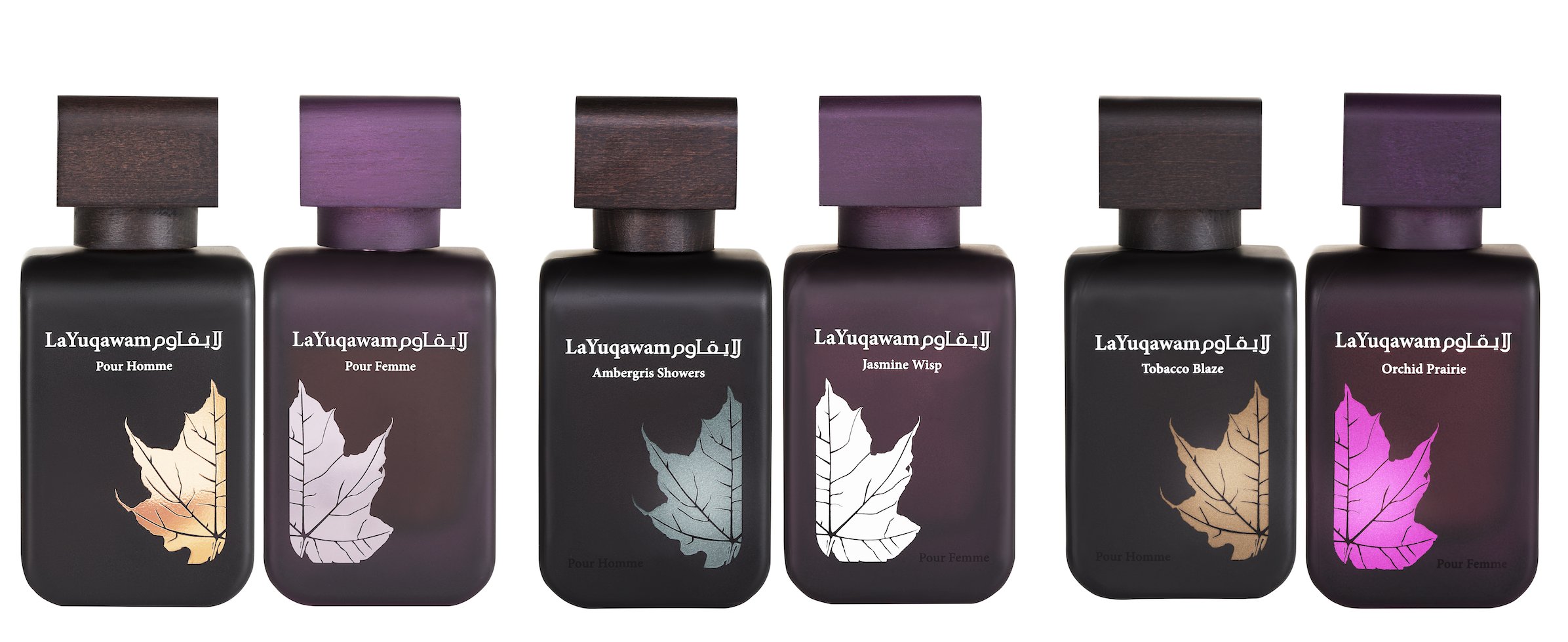 LaYuqawam series
La Yuqawam, in Arabic means Irresistible. LaYuqawam series extends a classic yet modern feel full of elegance, refinement and prestige to oriental perfumery. The series which includes six fragrances has become a classic that never goes out of fashion. The love for this series transcends beyond the originally targeted Arab nationalities to international connoisseurs of perfumes, looking for a sophisticated and modern exhilarating oriental experience. The series is made up of six fragrances including a pour femme, pour homme, tobacco blaze, orchid praire, ambergris shower, and jasmine wisp.
Somow Ma'ali/Wajaha Bukhoor
Somow Al Rasasi is an enigmatic and addictive scent with rich dark blends creating a mysterious and seductive aura. Elevating the ritual of Oudh to a modern art, this lavish collection was specifically created for the connoisseurs of luxury, with a passion for extravagant scents and a love for opulent oudh. Somow Al Rasasi – Ma'ali comes as a Dakhoon and an Oudh Moattar; each telling a story of prestige and craftsmanship. Somow Al Rasasi – Ma'ali Oudh Moattar is an intensely sensuous and opulent blend of flowers, amber, and oudh. The seductive wafts of rose, tuberose and orange blossom are softly nestled by amber, olibanum and oudh, creating a warm and mysteriously alluring aura. The collection is presented in sophisticated black and gold luxurious bottles. Somow Al Rasasi – Wajaha Dakhoon tells a story of prestige and craftsmanship. Wajaha Dakhoon projects an epitome of richness with a dark blend of opulent rose Elemi crafting a mystifying experience. The addictive and sensual qualities of sandalwood, elegant musk and amber work together to enhance the velvety aura of the incense. The blend is then bolstered by the inclusion of Guaiac wood; an exotic wood note which has a tar-like, phenolic facets, imparting smoky nuance.  The result is a luxurious, noble and long-lasting scent, which can be enjoyed by all.