In an endeavour to reach more customers in the Sultanate of Oman, and to have them experience the brand, Majliya has collaborated with Bank Muscat and extended a number of unique promotions and offers to the bank's card holders.
Among the offers that Bank Muscat customers can enjoy is the Easy Payment Plan (EPP). This offer enables Bank Muscat credit cardholders to purchase Majliya jewellery and pay for the same in 12 monthly instalments at 0% interest. Whether it is shopping for a wedding or being the proud owner of a piece of heritage that one can cherish for years to come, this amazing offer not only makes buying Majliya jewellery affordable but turns dreams into reality.
In addition to the Easy Payment Plan, Bank Muscat also offer discounts to Premier Banking credit card customers. With this offer, clients can avail of a flat 17% discount on the total invoice value with their Bank Muscat Private Banking Visa Infinite credit card while Asalah and Al Jawhar credit card holders can avail of a flat 13% discount on the total invoice value. Premier Banking clients will also have the added advantage of combining the deals, and can benefit from the Easy Payment Plan, if they wish to do so.
Coinciding with Father's Day, Majliya launched its handcrafted luxury collection for men. The brand-new men's accessory lines – Azam Fajr and Azam Vivid – include cufflinks, rings and walking sticks, which showcase Majliya's iconic designs, each designed to suit the individual tastes of its customers.
The Azam Fajr line, is inspired by Oman's breath-taking landmarks like the Grand Mosque, Muscat Gate and the Al Alam Palace, and is a reminder to indulge in the beauty found in architecture. Amethyst, Turquoise, Lapis Lazuli and Malachite are the crowning jewels of this line, with each collection featuring a Walking Stick, Ring and Cufflinks. These masterpieces from Majliya inspire authenticity and are all one needs to make any occasion grand.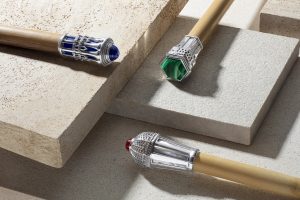 The Azam Vivid line, is inspired by the unique topography of the Sultanate, and reflects the boldness of the mountains and the vivid colours of the local landscape. Designed to reflect the personality of the one it adorns, this collection embodies the unwavering calm nature and the strength attributed to men. Gems like Green Agate, Red Agate, Black Onyx and Lapis Lazuli are the charming stones of this line. What makes this collection unique, is the expert craftsmanship with which the gemstones have been hand cut by Majliya.
Commenting on Majliya's endeavour to reach more people in Oman by collaborating with Bank Muscat, Marco Belgrado, General Manager of Majliya, said, "In the last four decades, Majliya has become a leader in the luxury jewellery and gift segment, synonymous with uncompromising quality and passion. Through our collaboration with Bank Muscat, we aspire to take our brand experience to the next level by making our high-end collections available to more people in the Sultanate. With the Easy Payment Plan, we aim to make Majliya jewellery accessible, enabling our customers to discover and own a piece of Oman's very own luxury brand."  
Majliya is the story of an extraordinary Omani icon with big aspirations: Creating timeless masterpieces that honour the wishes of its clientele and are as individual in spirit as they are. With great respect for local traditions and customs, each brand element is a story in itself. Colour, design lines and harmony between heritage and modernity, all contribute to the success of this eternal luxury brand that celebrates bridging history and time with a glorious future.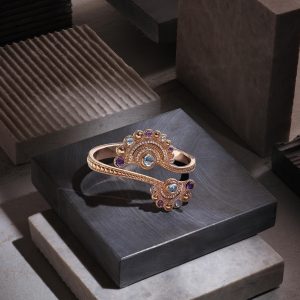 "The launch of our hand-crafted luxury men's collection was a timely arrival to celebrate fathers and the father figures around us. The unique craftsmanship employed in the making of the newly-launched Azam Fajr and Azam Vivid jewellery lines is undeniably a work of art. While Oman's mesmerising architecture inspires the Azam Fajr line, the Azam Vivid line reflects the beauty of Oman's unique natural landscape. These iconic men's luxury jewellery collections have been handcrafted with precision and care to suit the individual tastes of our customers. As patrons of high-end luxury keepsakes that present a lifetime of stories and memories, our success is unquestionable proof of the attraction of Oman's heritage to customers worldwide.," Marco Belgrado added.