Érik Gilbert Comas is a French-born Swiss former Formula One driver. He was the French Formula 3 champion in 1988, and then Formula 3000 champion in 1990, after scoring the same number of points as Jean Alesi in 1989. Swathi Suresh talks exclusively to the Racing Veteran about his journey during his vacation in Oman.
Erik, tell me about what got you into racing? What's your story? 
Probably you will like my story, because it's about how I come from a humble and modest family, but my career is linked to luxury brands by choice, which are Charles Jourdan. They were a luxury shoe brand in the 70s. I was 10 years old when I had my first encounter with them and they were the rage with celebrities then. These shoes were built in Romans sur Isère where I was born in France and my father had a small garage, we had a very small garage but he was very good at tuning the cars, the carburetors at the time and Mr Jourdan, by coincidence brought one his cars to my father and he was so pleased that he brought another one. From then on Mr. Jourdan, who is a very successful businessman, brought his new cars to my father's garage. My father tuned and turned around many great luxury cars like the Alpine 1300, Alpine 1600S, the Ferrari dino 246, Porsche 911, 914 Porsche, the Daytona, the Lamborghini Miura. So all the best cars of the 70s, was in my father's garage and he handled 80% of Mr. Jourdan's fleet. This Instilled a passion in me for cars that still exists today.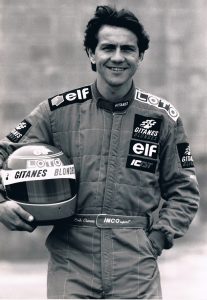 But you are not just a car enthusiast, you made a career out of this passion. How did you get behind the wheels and decide, this is what you want to do?
My father had only one mechanic assisting him, Serge, who was into  go-karting  in  '75/76, wasn't very popular at the time and one day Serge let me try it, I was in love with it so I told  my father that, I wanted to do go – kart and my father disapproved instantly. He felt I would change my mind and not commit to it because I played soccer for 2 years, learnt judo for 2 years, and practiced cycling for 2 years. All my hobbies had only a temporary shelf life. Go-Karting also was an expensive hobby for me at the time. My father could not accompany me and on weekends, the prices would surge. So then I waited till I turned 18 years old, and I bought a cheap station wagon, the Ford Escort MK1. This was in 1981 and the car (the Ford Escort MK1) was probably a '74 make but it was good because I could use it to transport my go-kart. 
I was in the sport only for 5 years when I became the league regional champion, but after 4 races I became a French Champion. So within 2 years I became the go-kart champion and  I wasn't even 20. Then the year after, I went to the racing academy called Winfield at the Paul Ricard Circuit, where this system doesn't exist anymore today. We were about 300 young men and women, but men predominantly did the formations and driving.  One of the first lessons in March, was sitting on a chair and you have three pedals, you learn how to do the toe and heel because of course the main issue to drive a car at the time was switching between the pedals since there was no automatic gearbox then. In April, we drove the car but we were limited to only 3000 RPM. It was a rigorous 1 year process and then the 16 of us qualified for the final and the best 8 went to the quarter finals, 4 to the semi finals and then the final. The Final was on Nov 3rd 1984,  when I had just turned 21! After my birthday on 28th September, and that day, I Won! I spent about 12,000 Francs which would be 2,000 Euros and I won 1 Million Francs from the prize pool which was around 400K Euros! That money obviously did not go to my pocket but to pay for my first season of single seater racing.

That is so inspiring! How did your fascination for F1 progress from here?

Everything was not hunky dory for me at the time. It was a challenging period. I had a few losses as well. On Nov 3rd 1984, I had failed to win, I assumed I would never be a race car driver because the entry to buy a car (slot in the season) was not accessible, but I was always fascinated by F1. This changed the trajectory in my life. Later, I went onto win my first single seater race the year after and the remuneration was coming from Elf, which was a major French fuel company now acquired by TOTAL.
 But Elf, if you look at the pictures from the 70s and 80s, was the major sponsor for F1. Elf stands for Essence, Lubrifiants de France (essence and lubricants from France (ELF)). They were the main, number 1 fuel company of the time and they sponsored my first season as I became the first rookie they paid for. I raced another season and I won 8 races out of 13 and made 12 podium finishes! So '86 was a good season for me in which I became a F1 Turbo champion – French Champion. Then I transitioned to Formula 3 and meanwhile, Renault offered me a drive what is now called the GT but the GT didn't exist at the time. In 1987, it was called the Renault 5 Turbo. Most of the drivers were ex-F1 Drivers and celebrities. I was the only unknown driver and I won. 
Thereafter, I focused on F3 and I won 3 championships in a row! I then moved to  Formula 3000, which is the second division of F1 today it is known as GP-2 and I finished on equal points as Jean Alesi, but Jean Alesi won 3 races and I won only 2 but with the same points – 39, so he was titled as the champion. He went to F1 and at the time I went on to join the Marlboro World Championship Team to do another season of Formula 3000 and I won that as well! So, I became the Intercontinental Formula 3000 champion in 1990, I still have the car in our garage in Marlborough colors and I signed with F1 and joined them in '91. It was a challenging journey because I rode with Ligier who had already been in the competition for 2 years at that point, and this was the period of technical transition. We spoke earlier about the gearbox in this interview and Ferrari introduced the semi-automatic gearbox in 1990. In 1991 when I joined F1 – Williams, Benetton and also, McLaren along with Ferrari had this technology.
How was your experience with Ligier? Could you elaborate on that?
Ligier still had the H – Pattern gearbox so, I was already driving a Historic F1 but I didn't know it at the time and we weren't competitive and scored no points in the 1st year and the 2nd year we reached 5th at the French Grand Prix, 11th at the World Championship and I bagged the sixth position twice out of 35 cars back then, and F1 has 20 cars in a race. The race was different back then wherein only the first 6 positions scored points in the championship tally whereas these days, the first 10 finishes score points! So it was much more competitive back then and with technology too. I spent 4 years in F1, '91 and '92 with Ligier and '93, '94 with Larrouse – were the 4 years of technological transition. From 1995 onwards, everybody had automatic gearboxes in F1 So, that makes me one of the last racers to only race with manual gearboxes.
You often reminisce about racing back in your days with a smile. What has changed over the years in terms of technology, racing standards and eligibility?  
Driving and racing in manual race cars was my speciality, I cannot even imagine the pleasure of driving a car that is semi – automatic. My car has to be manual because of my professional background. I first learnt (how to drive) on a seat in a chair in my room! I used it to play with the pedals and only drove manual cars up to F1 and after F1 I really suffered from the accident of Ayrton Senna because he saved my life in a big crash in '92 at Spa in Belgium. And I was the last one to see him as he was dying in Imola in '94 on May 1st. So I really suffered and decided to quit F1 at the end of the year. I really wanted to win because in F1 if you're not on the winning team, you don't get access to the best cars and you see some good drivers changing teams. I didn't mind it and I then moved to Japan.
As you rightly established, racing involves exceptional high speeds and intensity. How did you manage to keep your calm and maintain your composure and remain mentally strong in spite of the great risk and tough challenges involved in those races, especially with your burning desire to win?
I honestly got into racing pretty late, compared to my contemporaries, so my first season of single seater was when I was 22. Which is pretty late given today's standard wherein one is expected to be in F1 by that age. At the time many were younger than I was but it was still possible to do it and besides I chose to enter racing at my own will. So, probably I had the maturity because of my age. If I was younger, I may not have the wisdom and maturity to be the successful driver that I became, so things worked out exactly as they should have. I gradually got used to the increasing levels of difficulty as I progressed. It wasn't as though I was dropped into F1 straight from single seater racing. I only joined F1 when I was 27 years old and, though I never really talk about this, I guess it all happened smoothly as the gradual increase in difficulty between the various levels of racing.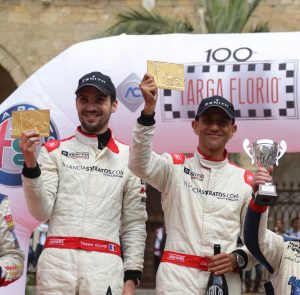 You mentioned earlier that the 70s were the best time for cars. Why do you say so?  Has technology taken over the thrill of driving?
I will give you  an example. If you give Djokovic, (Björn) Borg's racquet he'll still be able to play Tennis, though not as fast but he'll still play well. But that is not the case with F1 racing because if you give the new generation racers my car from the past, they cannot handle it with the required dexterity needed for manual gearboxes, and lack of computers and very little telemetry. In my time all the tuning and setting was possible due the racer's level of technical understanding with which we were able to provide feedback about how our cars were on the corners to our engineers and then the mechanics were instructed by the engineer and drivers on what modification is best for the time. So, when any modifications were made to my car, I was aware. This level of technical understanding gave us a much closer understanding of the cars we drove. When a computer is making the decisions for you, you are forced to adjust and you may not even know what the issue is, so the racers don't know how to make decisions about their car modifications. As I told you, '94 was a split in motorsports. It is like automatic gearboxes took over and it felt as though the racer was closer to being a passenger when compared to the effort that went in with manual gearboxes in racing. With Manual, you are the captain, you are in charge of the control of your car but not so with safety. Thus, this progress has led to the driver's input being sidelined. These days, one can be trained on a simulator and be F1 ready due to the technology advancement.
 I know you possess a unique supercar with you. Can you shed more light on it?
To answer that, we will have to back track a bit earlier in my career. After F1, I went to Japan and I spent the second half of my career there. I spent half of my career in go-kart, single seaters, F1 and the likes and, the other half I spent with closed cars such as Le Mans or GT in Japan – Mainly with Nissan. I had been racing for 9 years with Nissan. When I joined Nissan for a full programme of GT and Le Mans, the reason I quit Toyota to go to Nissan in 1997 was because Nissan was the first Japanese Car manufacturer to ever make a supercar, the Nissan R390 GT1. I loved that car and I wanted to race it at Le Mans and at that time I even wanted to have the road worthy version, as they were to be in production at the end. 
Due to the regulations of Le Mans in GT1, the cars came from very exclusive brands such as McLaren, Mercedes, Porsche, Panoz, Nissan and Toyota and the regulations stated that at least 1 roadworthy version had to exist and Nissan made 1 and decided not to sell it as the production cost went into millions of dollars in 1997. 25 years ago,  I jumped in and decided to buy back my Le Mans car one day. So we discussed at the time that since, I cannot buy the roadworthy version of the car and I wanted to auction my racing car. Today, I proudly own my Le Mans Nissan R390 GT1 which became even street legal to drive.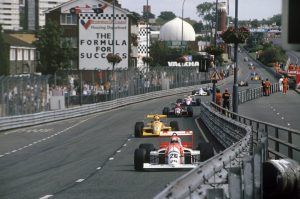 Yes, the amalgamation of man and machine always carries some very interesting stories indeed. The best love story there is, don't you think?
Yes indeed, I have been racing historic rally cars in recent years. This is another avenue that I have been able to follow now after my career as my first preference was for Rally racing but it was easier to obtain a scholarship for single seater racing and win! So for the last decade or so, I have been engaged with classic cars and was mostly ran the Lancia Stratos and the inspiration came when I witnessed the victory of (Bernard) Darniche in Rally Monte Carlo with the Stratos in '79 at the age of 16 and they drove to my house in this car which made me fall in love with it and I dreamed of owning one! So towards the end of my racing career, I raced and won twice including the European Historical Race Championship in 2017! That was my 10th and last motorsport race in my eventful career.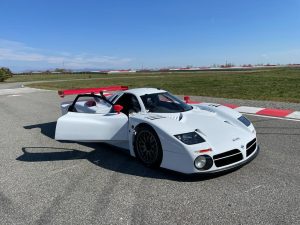 I am going to ask you something not related to racing now. What made you choose Muscat as a destination for your retreat? What drew you here? 
About a decade ago in 2012 was the first time I came to Oman. I met my beloved wife Raffaella 5 years ago and got her to Muscat and we spent 2 months during the winter last year and we decided that, you know what, Oman has great weather, Muscat is Beautiful and people are nice and friendly and it is a very safe and peaceful country. Another wonderful quality about Omanis is that they are always smiling which is something very rare back home in Italy! So this is a dream world for me, the people are very affectionate, they adore cars and the sense of community and mutual respect is very high! Everyone is accepted here, so we finalized that during the cold, harsh winters, at the suggestion of my beautiful wife, that we stay here in Muscat. I am still active on certain projects as I will always be working on cars till my last breath, in fact my passion for cars is what led to us meeting as well! Where there are cars, I am always around. That's how you and I met coincidentally at Jebel Sifah.
While we were in Oman, we also met Nasser Al Attiyah (Qatari Rally Driver) after the Dakar Rally after which he came for the Romans Rally and we met here in Muscat and grabbed dinner together so, cars have been my leitmotif throughout my life. So, Oman became an obvious Winter getaway choice and we chose to become residents here with the community! We love our choice and I love your country and we feel well. It is a great joy to split our time between here and Europe.
Erik, given your dynamic racing career, what is your one piece of advice to the young, budding drivers in the industry?
 The world is driven by images. So, behind the beautiful images, there is always a lot of hard work and challenges, so your commitment and dedication will be questioned but you must stick to it, no matter what challenges occur. A disciplined life should be maintained and there will be many sacrifices that will have to be made.