Award-winning brand from Istanbul, Atelier Rebul has opened its maiden store at the Mall of Oman in Baushar, marking the brand's debut into the luxurious scent expertise in the Oman Sultanate.
Inaugurated in the presence of HH Sayyida Hujaija Jaifer Saif Al Said, who graced the opening as the esteemed Guest of Honour, Atelier Rebul boutique will house over 220 products in their unique range of authentic collections.
Established in 1895, the brand caters to a wide range of audience with fragrances, home scents, skincare products, home accessories and luxurious gift sets. The store is located at the L2 floor in the Mall of Oman. 
Atelier Rebul, which opened its doors over a century ago, commenced operations as a pharmacy in Pera, Istanbul by French pharmacist Jean Cesar Reboul, before expanding into the scents and fragrances. The scent expert brand carries this deep-rooted brand tradition of selecting the finest quality ingredients in most sophisticated scientific formulas from Istanbul to the world.
Rebul Pharmacy's reputation stands strong and reverberates into the core operating ethos of Atelier Rebul reinterpreted cosmetic atelier today – upholding quality standards and a blend of natural ingredients in its recipe. 
Customers in Oman – through the latest state-of-the-art Atelier Rebul store – can experience a wide range of scents, all of which evoke timeless expertise, innovation, and sustainable production practices (including animal cruelty-free and vegan products).
Atelier Rebul Co-CEO Mrs. Nuket Filiba said: "ATELIER REBUL is a fragrance expertise brand representing more than 125-year-old-pharmaceutical heritage. Our essence is based on our founder Jean Cesar Reboul's slogan "Quality and Trust Are the Most Significant Legacy of Rebul Family". Therefore, we carry this deep-rooted brand tradition of selecting the finest quality ingredients in most sophisticated scientific formulas from Istanbul to the world. Currently operating in more than 50 exclusive stores globally, as Atelier Rebul, we are excited to expand our brand through our partnership with Action Trading Oman which is one of the leading players in the region. With our modern retail experience and personalized services, we believe that our brand and products will be highly appreciated by the consumers in the region. We are very glad to be presented to our customers in Oman."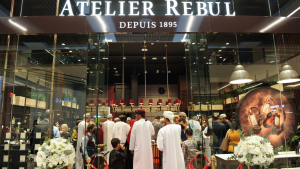 A Champion of Sustainability Atelier Rebul is also proudly certified under the Cruelty-Free 'International Leaping Bunny' global programme for all of their cosmetic and personal care line-up; meaning, animals are kept away from the safety testing process of products.
This globally recognized gold standard covers monitoring animal testing for all ongoing materials and products, adhering to a fixed-date policy, and following up with independent audits.
The brand has also been started a project within the scope of Sustainability Efforts of Rebul Group of Companies' to deliver tree seed balls to hard-to-reach areas that need to be afforested for a better world. 
The brand aims to grow 500,000 trees in their natural environment under this #gratitudeforplanet programme. The general public too can start the planting process by choosing the type of tree they would like to grow from the seeds reserved for them by registering with an e-mail address.
Atelier Rebul understands the fragrance sector's continuous need for innovation and sophistication – and the introduction of the new store in the Oman Sultanate through this journey of diversification is a true testament to the vision of its founders and the dedication of its craftsmen.