How stylish is your home décor? Are you in with the trends? Danielle Riach, Buyer – Home & Beauty, Namshi.com, shares the latest on décor, accessories and all about the Home section of the online retail site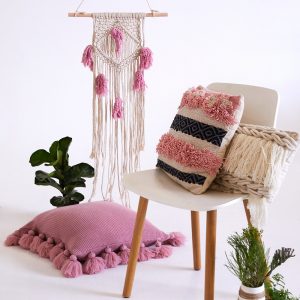 What is the concept behind Namshi Home?
We provide fun yet stylish home decor accessories in the region at an affordable price. We have a large range of brands mixed in with our own design products to make shopping for your home easy in one location. We cater to all kinds of people, whether you're just about to start university & looking to kit out your new pad or if you're just looking for that statement piece to add to your home.
What are the design trends that are all the rage for Summer?
Boho is the key trend for this summer, think tassels, textures and wooden materials. Macrame is huge for the season with wall hangings, cushions and hanging planters dominating the trend. We've used a neutral colour palette within our range to suit any home with key pieces being our tassel cushions and the colour pop macrame wall hanging.
What does Namshi Home section include?
Namshi homeware is more of a multi-branded lifestyle offering. We have a multitude of product categories from stationery to mugs and water bottles to games and novelty gifts. Technology and Photography is one of our largest areas with key brands being Fujifilm and we have just launched Polaroid! Then of course we have our home décor products such as photo frames, cushions, bedding and more.
 Which are the markets that you cater the most to?
We cater to the GCC countries with our largest market being Saudi Arabia. In terms of shoppers, we have a wide customer base and tailor our product offering to each of those. For the younger customer we have brands such as New Look, Typo & Pink Cactus where you can buy into fun shaped mugs and cute stationery pieces, right through to the more contemporary customer who likes to buy into Ted Baker or the trend led Nordic design brands such as Umbra & Present Time. We also offer an Arabic range with a modern twist with the likes of Silsal & Drawdeck wall art. We have also just recently launched some monogram Arabic letter notebooks.
Where do you source your products from?
We source our products from all over the globe. We have a few local brands as we're a homegrown company ourselves and like to help other companies grow. We also have brands from Australia, Netherlands & UK and have recently just returned from a sourcing trip from USA, so watch this space!
How often do you update the collections?
We update the ranges every 3 months and we also have a core range selling all year round. In addition to this, we have weekly drops of new arrivals!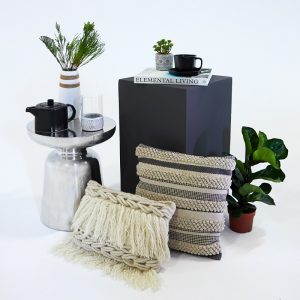 How can one do up a room without having to change the entire décor?
Adding plants to a room makes a huge difference, one of our favourites is the Nesta Tiered planter from Umbra.
A simple bed sheet change can also completely change the look of a room; try our palm leaf bedding for a cool urban feel. Just changing up your cushions by adding a pop of colour or mixing up the textures of multiple cushions on a plain sofa or bedding will give you a whole new look and feel.
Finally, you could try adding a statement piece to a bare wall such as a mirror, wall art or tapestry.