Rituals, a first-of-its-kind luxury home and body cosmetics line, has launched The Ritual of Namasté, an advanced range of skin care products created from natural ingredients. With a desire to celebrate the power of nature, The Ritual of Namasté range of skin care products is created using natural ingredients and fragrances to unveil the skin's natural radiance. The collection includes responsibly sources, only natural or naturally derived ingredients.
The Ritual of Namasté Collection features five lines of luxury products, Glow, Purify, Hydrate, Ageless and Sensitive. Created to meet individual needs, this collection promises to unveil inner and outer radiance.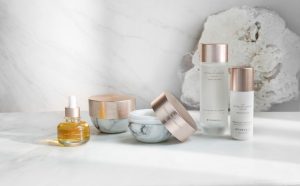 The Glow Collection
Consisting of anti-aging formula to fight the first signs of aging, the Glow Collection is developed for customers in the 30 – 45 age group. With a unique combination of enriching saffron flower and holy lotus, it minimizes the appearance of fine lines and restores radiance, leaving the skin bright and glowing. Products include a Radiance Anti-Aging Day Cream, Anti-Aging Night Cream, Anti-Aging Serum, Anti-Aging Eye Concentrate, Anti-Aging Face Oil, First Essence and Anti-Aging Ampoule Boosters.
The Purify Collection
Suitable for all skin types, Purify is designed to help customers achieve clean and pure skin. It creates a soothed, refreshed complexion as it fights against daily pollutants while purifying and cleansing the skin using a combination of moringa and holy lotus. Products include Skin Brightening Face Exfoliator, Velvety Smooth Cleansing Foam, Gentle Cleansing Foam, Clarifying Facial Toner, Micellar Water, Purifying Charcoal Wonder Mask, Cleansing Milk, Glow Mask, Cleansing Oil and Cleansing Balm.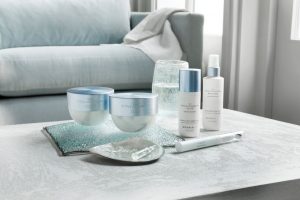 The Hydrate Collection
The Hydrate Collection is created for younger skins, between the ages of 18 to 30, to ensure proper hydration and maintenance of the natural moisture in one's skin. With an active complex of hyaluronic acid and Indian rose, the natural plant based anti-oxidants protect the skin from negative external influences and help restore the skin's moisture balance for intensely hydrated, supple skin. Products include Hydrating Gel Cream, Hydrating Overnight Cream, Intense Hydrating Serum, Cooling Eye Lotion, Urban Hydrating Mist and Hydrating Ampoule Boosters.
The Sensitive Collection
Dermatologically tested, the Sensitive line of products is create with natural alcohol- and fragrance-free ingredients, like white water lily and holy lotus, that are gentle on the skin. Products include Calming Sensitive Day Cream and Calming Sensitive Night Cream.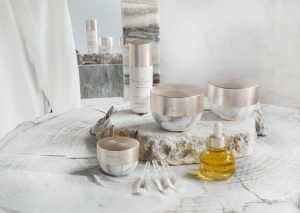 The Ageless Collection
The Ageless Collection contains formulas to firm and lift the skin, especially designed for mature skin types, over 45 years of age. This line of products helps diminish visible signs of aging, bringing firmness and smoother complexion with its combination of enriched gotu kola and holy lotus. Products include Active Firming Day Cream, Restoring Night Balm, Active Firming Serum, Active Firming Eye Cream, Restoring Face Oil, Firming Ampoule Boosters.
Rituals believes in showing respect for nature and one's skin as this will be reciprocated in one's beautiful complexion. With this in mind, Namasté is an apt name for the new collection, The Ritual of Namasté, as it is a greeting that translates into, "my soul honors your soul". Rituals' respect for nature is reflected in the sustainable, special refill containers for day and night creams, to balance beauty with nature. The sustainable refill solution offers value for money and helps reduce the carbon footprint, which means less landfill and more care for the environment. Using the refill packaging instead of the normal packaging for a year will in turn save 70% CO2 and 65% energy while using 70% less water.
Rituals products are available at Muscat Grand Mall +968 933991313