Celebrated French perfume maison, Henry Jacques recently opened its first boutique in the region at The Dubai Mall. Anne-Lise Cremona, CEO of Parfumerie Henry Jacques and daughter of the maison's founder, talks to Anne Kurian exclusively about the brand, its philosophy and more…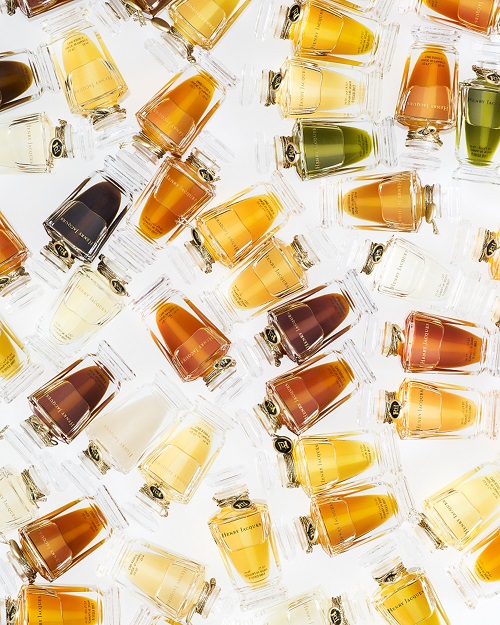 Renowned French perfume maison, Henry Jacques opened its first boutique in the Middle East. Located at the new Fashion Avenue extension of The Dubai Mall, Henry Jacques brings to the region countless years of uncompromised dedication to great perfumery, and a commitment to honour its strong, long-lived ties to the region.
Henry Jacques embodies almost half a century of excellence and creativity, celebrated around the world by those with a flair for the finest of fragrances. Born of Founder Henry Cremona's world travels, his inexhaustible passion and his wondrous encounter with one of the last great noses of the old French Perfume tradition, the Maison is one of the last family-run perfumeries. The laboratory houses thousands of scents and only the most precious and exclusive ingredients, so loved by those with a taste for absolute refinement, and an obsession for rarity and olfactory perfection.
The unique style of the new Middle Eastern flagship boutique embodies the visionary spirit that underlines Henry Jacques' standing as one of the most revered perfume houses ever. Designed by Christophe Tollemer, revered French architect and Henry Jacques' Artistic Director, it is a haven of scents inspired by an 18th century French castle. By bringing to life beautiful yet often forgotten crafts, the boutique gracefully blends the illustriousness of the past with modern-day elegance and charm.
The Henry Jacques boutique is the second stand-alone boutique in the world, following on from the recent opening in Singapore and a longer presence at Harrod's London.
In an exclusive interview to Signature, Anne-Lise Cremona, CEO of Parfumerie Henry Jacques and daughter of the maison's founder, shared the brand's philosophy, the journey, the inimitable experience offered at the haute parfumerie, and more.
How did the house of Henry Jacques come about?
Henry Jacques is a story of friendship, passion and family. The House was born from the amazing encounter of my father Henry and a great nose, who was delighted to be able to share his knowledge with people who shared his passion. My parents learned the codes of great perfumery from him and since then, have given all their energy to preserve this know-how. They have added to those codes their sense of excellence, poetry and integrity, which are the foundation of Henry Jacques.
Henry Jacques catered mainly to private clients. When and how did the transition to opening boutiques / dedicated spaces happen?
Henry Jacques is in that sense very similar to an Haute Couture House. The transition started when I decided to come back the family business seven years ago, after spending years working in important international luxury groups. I knew that Henry Jacques needed to open its horizons, but at the same time I couldn't accept a single compromise. Finding the path into modern retail while preserving our soul was one of the greatest business challenges of my life. Nevertheless, it was obvious to me that a turn was coming in perfumery, that a new era was about to begin – and I wanted to initiate the trend.
What sets Henry Jacques fragrances separate from the other haute perfumery houses?
Everything! I think that the main aspects that characterise Henry Jacques are respect and passion. We do not pretend to have a magic formula, we simply consider ourselves as protectors of a French know-how that took centuries to be refined. As a family business, we function on a human to human perspective: all the way through from the sourcing of our natural ingredients, to dialogue with clients. To ensure this, things need to be kept to reasonable proportions, and we are very happy that way. We will never aim for massive scales and simply do things the way we like it. Our small team is home to remarkable creative minds and such genuine artistic ways are rare in the world today, let alone in perfumery.
Please tell us about the ingredients used and how you source these ingredients.
Our laboratory and its shelves filled with hundreds of natural components (we use over 1200 at the moment) are our greatest treasure. Decades of exploration, research, analysis and human relationships went into this laboratory. Natural components are king and always privileged. They need great attention and care, it is a day and night job to make sure that the quality is always premium. They are subject to numerous influences, from the weather to the type soil etc… They need to be used with delicacy and some of them are extremely rare. All these challenges, however, are absolutely worth it and without these incredible components from nature, great Perfumery cannot exist.
How different is the experience at a Henry Jacques boutique?
Henry Jacques boutiques are not made for a quick stop and purchase. We consider them as cocoons of French culture where you should linger, at least long enough to forget the outside world. We believe that great perfumery should be experienced with comfort, attention and passion. Entering a Henry Jacques boutique means leaving behind all your preconceived ideas about perfumery, and starting a new adventure. Time is essential. Besides the second to none quality of the boutiques – thanks to our talented friend and artistic director Christophe Tollemer – our teams, who are part of the family, receive the best training. Our know-how would not mean anything without someone of great passion to share it.
What are your thoughts on the art of perfumery?
Perfumery is one of the purest forms of art that exists today. Nothing can conjure up memories better than a fragrance. When a perfumer plays by the rules, respecting the bond a perfume should have with nature, painstakingly looking for the perfect equilibrium, he is able to trigger unimagined emotions. It is the most elegant ornament.
What is the right way of choosing a perfume and then applying it?
There is no right or wrong way to choose a perfume. You need to take the time to discover different fragrances, and with that, you will learn about yourself. Naturally, you will be guided by your emotions to know what perfume is right for you to wear, and when. It could be the time of the day, with whom you will meet, the colour of your outfit or simply your mood that will influence your choice. The most important thing is to feel happy with your perfume and this will surely radiate on others. I am very attached to beautiful gestures and many of them have sadly disappeared. I personally think that the most beautiful way to apply perfume is a few drops, on the skin, with a crystal stick.
How did you get interested in perfumes? What is your earliest memory of perfumes?
I am not sure I can remember my first memory of perfume since perfume has always been a big part of my life. Every aspect of our family life was infused with perfume, our home, our conversations with our friends. My mother has been a model of elegance and refinement and these qualities are reflected in the way she composes perfume and lives with perfume, in every facet of her life. She was constantly sharing this passion with her daughters. Our parents educated us in respect of beautiful craftsmanship and this is something that is central to the Henry Jacques way today. I love of course great perfumes, but also beautiful objects, with allure and style.
Besides Dubai, are there plans to open more boutiques in the region?
 I do not have specific plans concerning openings, but rather am attentive to opportunities that could best serve the brand. I never decide on a country until I am sure that I have found a location that honours my vision of Henry Jacques' positioning. The next boutiques will open are in Kuala Lumpur and Beverly Hills. For the Middle East, the next opening will be in Doha, a beautiful project for the first part of 2019.