Tommy Hilfiger collaborates with singer, actor, and icon of cool, Zendaya, to create a special collection, as she becomes the new global women's ambassador of the brand. In a special interview, Zendaya talks about the collaboration, fashion, career, inspiration and more…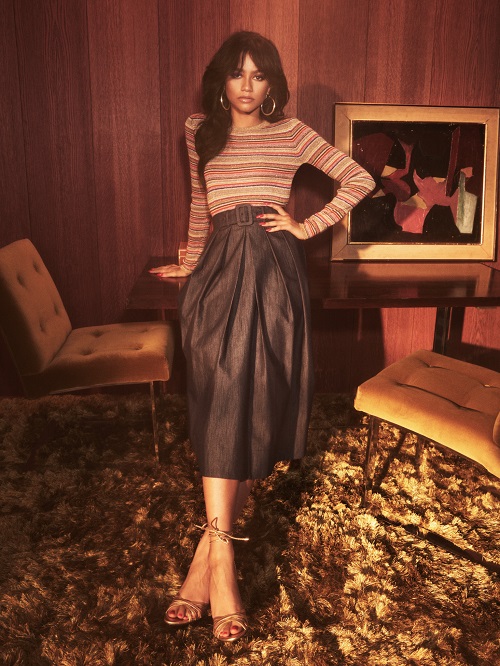 Tommy Hilfiger has brought a cool, vibrant edge to the brand with the signing of actor and singer Zendaya as the new global Tommy Hilfiger women's ambassador. Reflecting the company's continued strategic commitment to expanding its women's businesses globally, Zendaya also collaborated with the American designer to create a TommyXZendaya capsule collection that brings her unique and confident sense of style to fans around the world. The partnership celebrates Tommy Hilfiger's continued vision to collaborate with icons who share the brand's spirit and value of breaking conventions and celebrating diversity.
"I love to collaborate with people who are passionate about making their dreams a reality and who inspire the next generation to do the same," said Tommy Hilfiger. "Zendaya has become a global icon, using fashion to make bold statements while always staying true to herself. Our capsule collection will fuse her eclectic style with the Americana spirit of our brand."
The Spring 2019 TommyXZendaya collaborative collection is a celebration of strong, iconic women of '70s American pop culture and the era's signature styles that inspired Tommy Hilfiger to open his first store, People's Place. The look is strong and confident, with structured silhouettes, including high-waisted jeans and suits, elevated in a rich cream, navy, burgundy and cabernet red color palette with "Z" and "T" embroidery. Rainbow stripes and multicolored zodiac-inspired prints add a playful edge to the collection, from feminine full-length wrap dresses to luxurious satin shirts. The timeless tailored suit is updated with a modern twist, with wide-leg pants and narrow-waisted blazers. From apparel and accessories to swimwear and underwear, the collection embraces the nostalgia of the past while looking ahead to the future, fusing Zendaya's unique and confident sense of style with the brand's classic American cool DNA.
In a special interview, Zendaya talks about her association with Tommy Hilfiger, her style, her inspiration and much more.
 How would you describe your style?
I think the best thing about my style is I don't have one. There's freedom in allowing it to just be undefined.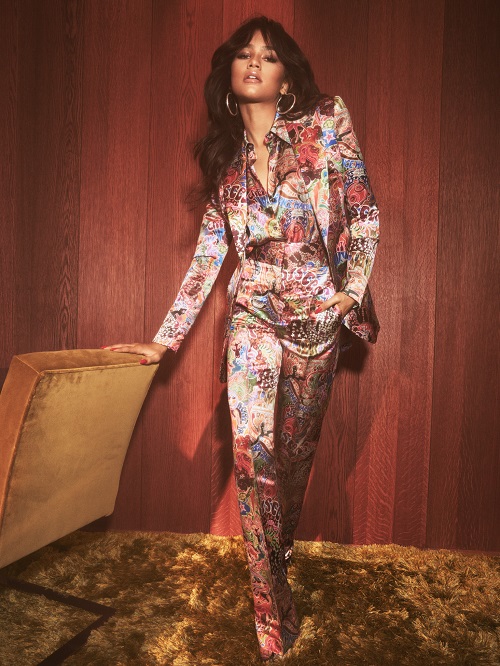 Who is your style icon?
There are too many to count. I'm just inspired by the ones you can tell dress for themselves and no one else.
 What's your go-to fashion advice?
Do YOU like it, do YOU feel good? Then wear it!
What did you learn throughout the design process with Tommy Hilfiger?
I've learned about what it really takes to make a garment. Even something as simple as a plain white tee takes so much more time, people and energy then you'd think, and every job is crucial.
 How involved were you in the design process?
Every step of the way. I really appreciate how Tommy and his entire team really allowed Law and I to have complete creative freedom. They gave us the support we needed to create our vison, and they executed it perfectly.
 In designing this collaborative capsule, what was important to you?
The most important thing to me is that these clothes feel timeless and whoever puts it on feels powerful and confident.
 What is a key piece of advice that Tommy gave to you?
He didn't even have to say it, he's a leader by example. He shows how to have longevity in your career by always staying true to your brand and sharing your knowledge but also never being afraid to reinvent or embrace young voices and creatives to always stay relevant.
 What was it like shooting the campaign?
A dream. Literally, I've been dreaming about it and have had the pleasure of watching it come to fruition.
  What is your first memory of TOMMY HILFIGER?
I think Tommy has always been a major iconic figure in pop culture. It's always been there, plus, I'm a 90s baby.
 Why did you want to become an actress and singer?
I just had a love for it. It brought me joy and became my outlet as a shy kid.
If you weren't an actress and singer, what would you be?
A Teacher.
What does a typical day in your life look like?
That's the thing, it changes every day.
What accomplishment are you most proud of to date?
I would say I'm most proud of the positive impact I've been able to have on so many people's lives.
What drives you every day?
My love for what I do, but also knowing that I've built the platform that I know I can use to really make the changes I want to see in the world.
How do you express your individuality?
Through the Arts and through what I wear. It's all an extension of myself.
 What makes you feel empowered? A certain outfit? A motto?
Working. I love working and like anybody, I need breaks. But doing what I love every day, that's empowering.
Who inspires you and why?
It may sound corny, but my family. Having little nieces and nephews and knowing they are watching is all the inspiration I need.
One thing that people are surprised to know about you?
I'm still a very shy person. Even though I guess I live a very contrasting life. I'm super introverted and it takes a lot for me to even start small talk with people at parties (that I normally don't even go to).
Where does your love of fashion come from?
I think it comes from my grandmothers, both of whom love clothes and keep everything. I still remember rummaging through their closets, even when I wasn't supposed to. I would dress up head to toe in their dresses and heels, which were massive on me at the time.
What are your favorite pieces in the TommyXZendaya capsule collection and why?
I'm kinda obsessed with the zodiac print, it's a lot of look but I love the suit with the matching blouse and the matching pumps.
What inspired the TommyXZendaya capsule collection?
The powerful women and fashion icons of the late '70s and early '80s.
Why partner with Tommy Hilfiger?
Obviously, it's an incredible opportunity but I love fashion. What better way and who better to learn about it from than Tommy Hilfiger.