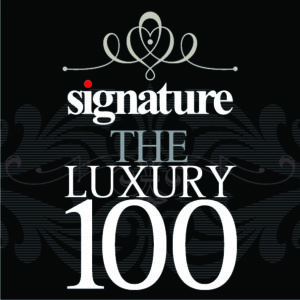 The most anticipated event in the world of luxury has been announced! Yes, the fourth edition of The Luxury 100, Signature magazine's annual luxury list and awards, is all set to take place on December 26 at the idyllic Muscat Bay, an award-winning Resort Village and one of its kind location in Oman.
Jaguar Land Rover, the Sultanate's top luxury car brand, will be the Luxury Partner for the event. Joining them are Amouage as Premium Partner and Muscat Bay as Venue Partner. The other sponsors include Times of Oman as the media partner and Oman Printers & Stationers as the print partner.
The Luxury 100 book launch and awards concept, which debuted in 2015, ushered in a new era for the luxury market in Oman has become the Sultanate's most prominent luxury awards night, while The Luxury 100 limited edition coffee-table book is already being called a must-have by the most renowned purveyors and consumers of luxury.
The Luxury 100, a unique initiative that marks the country's and the region's only list of iconic luxury products of the year, is a superlative compilation or a consolidated "List of Lists" that embodies the spirit of luxury.
Created after months of study and research, the editors of UMS, renowned luxury specialists, lifestyle journalists and a select mix of readers and industry experts weighed in to create this list and each featured product has proven its luxury credentials with its popularity. The categories range from personal luxury goods, luxury cars and luxury hospitality to bespoke banking. Some of the awards include those for Most Innovative Jewellery Brand, Iconic SUV of the Year, Premium Wealth Management Services, Best Luxury Sedan of the Year, Luxury Fragrance of the Year, Best Luxury Crossover of the Year, Luxury Banking Services Best Home & Lifestyle Brand among others.