Dolce&Gabbana's summer makeup range titled Sunlight Collection features a fabulous palette of warm and sparkling shades that are just perfect for the season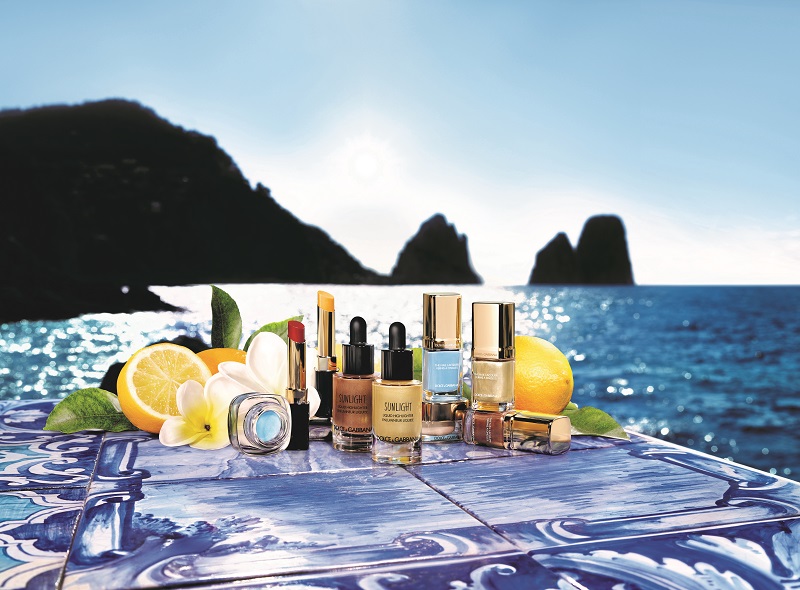 Dolce&Gabbana brings a splash of warmth this summer with their latest makeup collection. Titled Sunlight Collection, the new range from Dolce&Gabbana captures the warm glow of the Mediterranean atmosphere with a Makeup collection that bathes the complexion in Capri's golden sunlight. Burnished bronzes and shimmering golds make lips and nails bright and drape the contours of the face with the new limited edition Sunlight Liquid Highlighter in two glowing shades. Flashes of sky blue give eyes and nails a touch of Mediterranean colour.
The new Sunlight Liquid Highlighter, star product of the collection, illuminates the skin with a dazzling veil of light. Capturing the essence of Capri sunlight in liquid form, a single drop instantly lights up the face with a Mediterranean glow. There are two exquisite shades to choose from – Sunrise for a subtle golden gleam, or Sunset for a warm bronze shimmer.
One of our favourite products from the range is the Bronzer, which leaves the complexion with the sun-kissed, caramel tones of a flawless tan. The Mono Eyeshadows are infused with deep tones of Gold Dust, Bronze, and Light Blue while the Eyeliner is in a dark Coffee tone. The lipsticks come in a vibrant palette of copper, rich berry, and lustrous gold. The nail lacquers add a pop with the inclusion of pastel blue shade to the show-stopping shades of metallic gold and warm bronze.